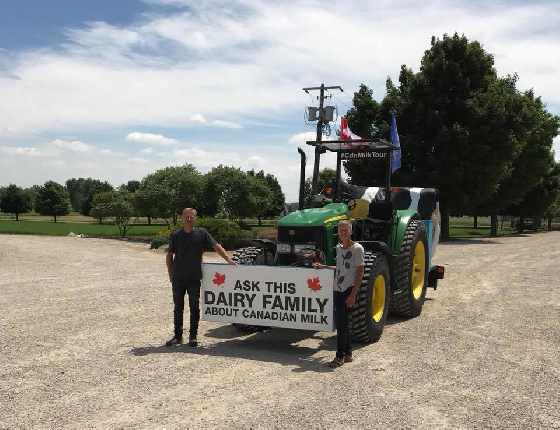 Photo Credit: Milky Wave Inc Facebook Page
A collision between a tractor and a semi-truck has killed an Elmira woman and sent her husband to hospital with critical injuries.
ELMIRA - Ontario's dairy farm community is mourning the loss of one of their own.
Elmira's Bettina Shuurmans has passed away after her tractor collided with a semi-truck on Highway 19, just north of Saskatoon yesterday morning. She was 55 years old.
Her husband Henk sustained critical injuries and was transported to hospital.
Laural Adams, the Communications Manager with Dairy Farmers of Ontario, says they were on a cross country road trip at the time; shining a light on Canada's dairy industry.
"They felt very strongly that they wanted to tell people about what Canadian dairy farming is, about supply management and most importantly they wanted to talk about being a dairy farm family and how dairy farming really affects Canadians in the rural industry and economy."
The couple set off on their journey on June 23rd, after passing the family business to their children.
According to Adams, they had spent the night in Saskatchewan before hitting the road that fateful day. It is believed the semi-truck hit their John Deere tractor from behind, killing Bettina on scene.
Adams says they worked hard to build the legacy they have today.
"They immigrated to Canada in the early 1980's and really worked from the ground up to own this farm. They were very hard working and very dedicated to the health of their animals. Basically one of the top rated farms as far a quality in the province and very well respected by their farming peers."
A GoFundMe page has been set up in order to raise funds for the Shuurmans family.