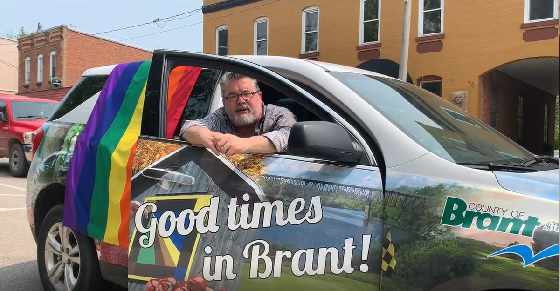 Photo credit: Brant.ca
The official ceremony is happening on Monday at the Council Chambers on Broadway Street in Paris starting at 10:30 am.
BRANT COUNTY - The County of Brant will be raising the pride flag on Monday.
They are celebrating Pride week with a ceremony at the Council Chambers on Broadway Street in Paris.
Mayor David Bailey says everyone is welcome to join.
"Join us on Monday, June 10, 2019 from 10:30 am to 12:30 pm at Council Chambers. The flag will rise at 10:30 am followed by a reception at Council Chambers. As a community, we will gather together and celebrate that the County is a welcoming, inclusive and diverse community."
The County of Brant has also partnered with The Wobbly Canvas to offer a Pride Week Social. Attendees can enjoy food, music, drinks and the opportunity to contribute to a co-created community canvas in support and celebration of Pride.
The Pride Social will be at The Wobbly Canvas located at 106 Dundas Street East in Paris on Thursday, June 13, 2019, 6:00 - 8:00 pm. Registration is required as space is limited. You can register online here.