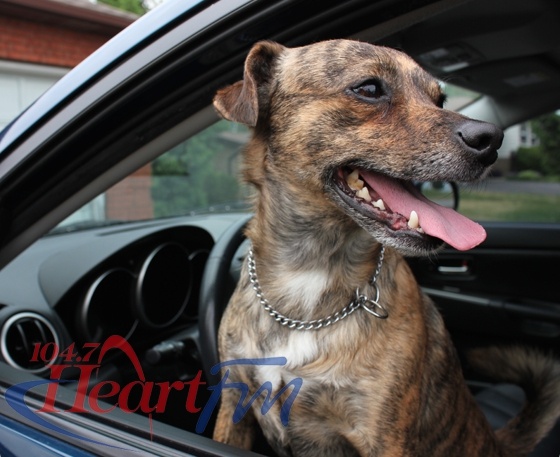 With temperature values in the 30's this week, it is important to know how hot is too hot for your fury friends.  
OXFORD COUNTY - With temperature values expected to hit the 30's this week, it is important to know how hot is too hot for your fury friends.
According to the OSPCA, if your pet is panting excessively or starts becoming very anxious, then they are feeling the heat and are uncomfortable.
Here are some tips to keep your pets safe during this early heat wave:
- Limit the amount of direct sunlight
- Air conditioning is the best if you have it
- Check the hot pavement with the back of your hand. The ground might be too hot for your pet's paw pads
- Making sure you're not leaving your dog unattended outside in the yard
- Be sure there is proper shelter or shade for your pet outside
- Always have fresh water available
Pet owners are also encouraged to monitor their animal when it is outside and to avoid long exposure during the middle of the day when it is hottest.
The age of your pet can play a role in how a hot day can impact your pet. Old dogs for example may have a hard time moving out of the sun.
The breed of your pet will also determine how long they can stay in the heat. A Husky for example with overheat rather fast due to their thick coats. It is important to remember that their coasts are a natural protection from the sun as well. It is not recommended to give your pet a summer shave. Consult a professional groomer that will know what is best.
Lastly, most importantly, never leave your pet inside of a vehicle on a hot day. The temperature inside a car will reach 40 degrees in ten minutes on just a 29 degree day, even with the windows cracked, and could possibly bring on a Heat Stroke.
Signs that your pet is suffering a Heat Stroke include:
- Excessive Thirst
- Rapid Heartbeat
- Fever
- Dizziness or Lack of Coordination
- Difficulty Breathing
- Vomiting
- Deep Red or Purple Tongue
- Seizure
- Unconsciousness
If you notice any of these symptoms, immediately take your pet indoors, provide fresh cool water and cold towels and contact your veterinarian for advice right away.
The safest way to avoid overheating or heat stroke is to simply keep your pets out of the heat.