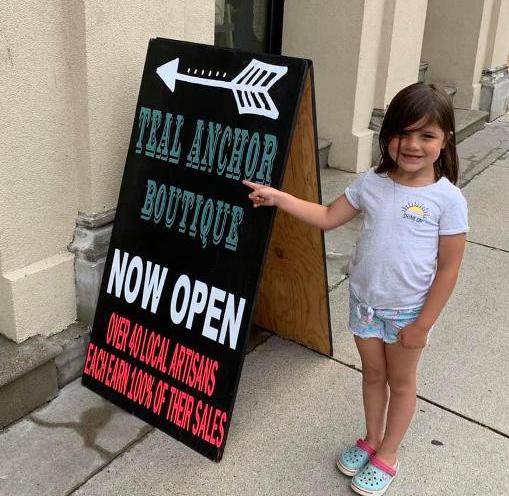 The owner of Teal Anchor Boutique claims she has been evicted from her store in Downtown Woodstock and the locks have been changed.
UPDATE: The person who did the eviction has contacted Heart FM and says this wasn't an illegal eviction, it was legal in every way.
"She rented the unit from another small business owner, not the building owner and that small business owner couldn't afford the past due rent, or for every rent payment to continue being late, along with all of the other issues that were going on (the other two points in my eviction letter were harming the reputation of the unit and being a nuisance to other tenants, but I also said that those weren't the only reasons, as listing everything would make the letter too long). To summarize, Lisa's been, in general, a nuisance tenant from the very beginning, and something had to give."
---
WOODSTOCK - The owner of Teal Anchor Boutique in Woodstock claims she has been evicted from her store in Downtown Woodstock and the locks have been changed.
Lisa Alborough says she received an email yesterday morning around 10:30.
"The email stated that I was being evicted from the property, not to bother to come into the store and that the locks had been changed."
Alborough says the reasons she was given for the eviction was petty and she has paid her rent.
"Things like being closed for lunch for 20 minutes, taking parking spots in the back, which I had done one time and stopped doing it, little petty things, I unfriended this person on Facebook because I was tired of being bullied and I banned them from my page."
Alborough has 50 artisans who sell items at her store at 386 Dundas Street.
"In the bottom of the email I was given, I was told that this person would be notifying all my artisans on when they could come and pick up their stuff and then I would be notified as to when I can get my stuff when everything was out."
Alborough says she is seeking legal action.
"I was actually on call yesterday and today with lawyers, we are starting a Civil lawsuit, everything that has been done has been illegal, this is an email that was given to me, no notice put on the door. Right now, during COVID, it is illegal to evict anybody, I did pay my bills and it is illegal to change the locks, both of those were done yesterday."