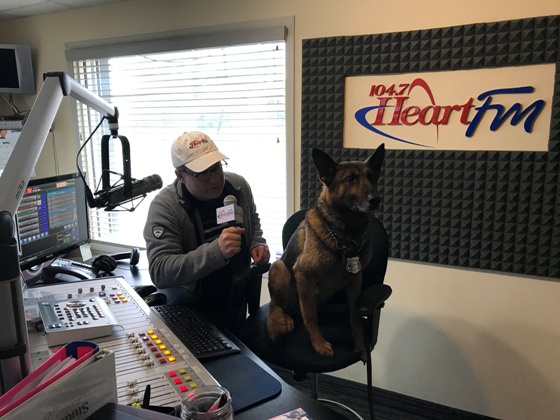 Everyone's favourite K-9, Officer Striker will be featured on a Facebook Live video from Woodstock Police on Friday as part of Police Week.
WOODSTOCK - It's Police week in Ontario and Heart FM has been spending the week, highlighting some of the work they do at the Woodstock Police Station.
Today's focus is on the K-9 unit and Officer Striker. Constable Dan Skillings is Strikers handler and has been with him every day for the past four years. Striker has had extensive training to sniff out drugs, currency and help track down people, just to name a few of the things he can do. Striker has been used on several calls over the years in Woodstock and has even helped out neighbouring detachments as well.
Skillings says Striker has likely even saved a few lives over the years.
"I think the mental health calls or calls of that nature where someone needs to be located for their safety are the calls that stand out to me the most. We have had some success in locating people have got in touch with loved ones and made comments about wanting to harm themselves or wanting to end their life. He is a great tool in helping to find those individuals, so we can get them some help. We have had some calls, where I'm not sure, if we as officers would have been able to locate the person hiding, if it wasn't for his nose and his ability. Those calls are the ones that are the most rewarding because he can play a big role in saving someone's life."
Striker is a bit of a rock start in Woodstock. The community has really embraced him and the work he has done. Skillings says the reaction from the public when they see Striker is always positive. Kids obviously love him, but even adults like to see him when he does community outreach calls. Skillings says that Striker will be featured in a Facebook Live video on Friday.
"We are going to be doing a Facebook Live this Friday for Police Week. You will be able to ask me some questions about Striker and his training and his job. Hopefully we will be able to get to a location where we can do some demonstrations."
Skillings says they are also hoping to bring Striker to do a couple of drive by's for kids birthdays in Woodstock. Where the kids can see Striker from a distance and he can even bark out a happy birthday or something like that. The Facebook Live video is happening on Friday at 1:00 pm and you can submit your questions now on the Woodstock Police Facebook page.
You can listen to the full interview with Skillings below: