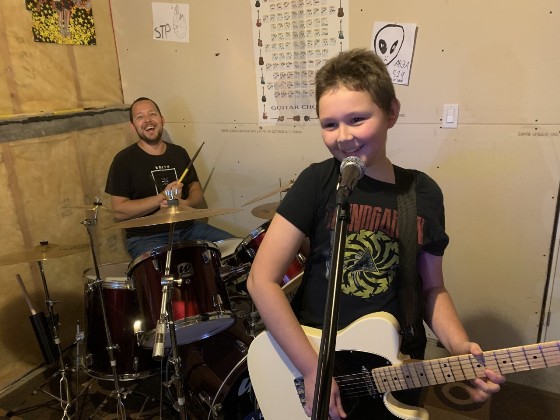 The future of Rock N Roll is alive and well and could very well be jamming right now at a garage in Ingersoll.
INGERSOLL - The future of Rock n Roll is alive and well and could very well be jamming right now at a garage in Ingersoll.
Father and son band Just Add Spark finished second in the Oxford's Got talent. 11 year old front man Logan Staley turned a lot of heads with his guitar playing, singing and his stage presence.
Logan says he loves playing with his father Ryan, who is the drummer in the band.
"We have been jamming together ever since I really started playing and then when this pandemic hit, we decided, why not record an album together. It is a self titled EP called Just Add Spark and it is on all of the streaming services. I think it was at that point, when we decided to start releasing the songs we have written together."
The father and son duo wrote all of their songs together and they share vocals on the album as well. Ryan Staley says his son was shocked to place second in Oxford's Got Talent.
"He was overwhelmed but he was almost more overwhelmed by some of the comments from the judges. Jimi Hendrix is one of his all time favourites so to hear the judge say, is this Jimi Hendrix reincarnated, that hit really close to home for Logan."
Logan really impressed the judges with his stage presence. He says he looks up to some of his rock idols when it comes to performing.
"I'm really kind of a shy person but when I get on the stage and have the guitar in my hands, I just get there in the zone and I watch people like Jimi Hendrix and Eric Clapton and all these guys and they're just up there rocking out and I kind of draw inspiration from that."
You can watch Just Add Spark in the BBBS Oxford's Got Talent show, they start performing around the 15 minute mark. Check out the video that is posted on the BBBS Oxford Facebook page.