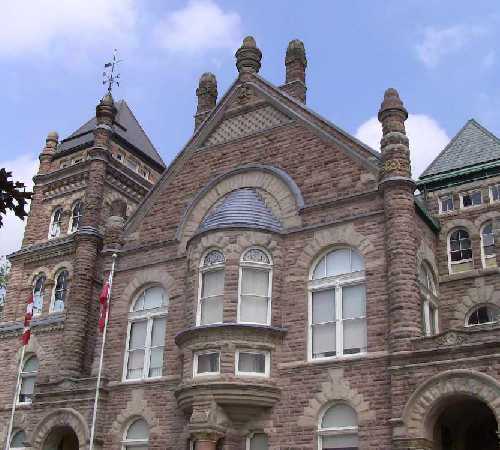 A former Woodstock Police Constable, who was once famously paid over $290,000 while he was suspended, entered a guilty plea today on charges of Criminal Harassment against a former lover.
WOODSTOCK - A former Woodstock Police officer entered a guilty plea today on charges of Criminal Harassment and a breach of a judicial undertaking.
Wayne Sczepanski was emotional when he addressed the court in Woodstock, at one point turning around to apologize to his victim. The court heard that Sczepanski was harassing his former lover, who he had been in a relationship with for a couple of years, while he was married. Starting in the summer he sent numerous, unwanted texts to his victim, showed up at her house several times uninvited, to the point where police were called. At one point the victim found him sleeping on her front porch. Sczepanski was arrested and sent to the hospital between September 12th and 16th of this year, when he got out, he immediately contacted the victim again. There was also an incident at the Pearson International airport where he got airport security to get in touch with his victim.
In the victim impact statement, the victim noted that she often feared for her life and the safety of her family. She was also very concerned about the state of Sczepanski's mental health.
While addressing the court, Sczepanski said he was suffering from PTSD, from his time serving the United Nations in Yugoslavia, where he performed policing duties and provided humanitarian aid to displaced citizens during the Bosnian war. He said he was suffering from withdrawal, from the medication he was taking during the time of the Criminal harassment. He also stated that he realized the harm he had caused his victim and her family and also noted that he is the father of her son. He stated this is an emotional and difficult time for him and offered an apology.
Sczepanski was given a conditional discharge with a period of probation that will be founded on rehabilitation.
The court case today was not related to the insubordination and discreditable conduct charges that he was given back in March of 2016. Sczepanski was paid over $290,000 while he was suspended for 32 months because of those charges, before he finally quit the force in 2018. Those charges have been stayed.
The fact that Sczepanski earned over $290,000 while he was suspended and even made the sunshine list caused a lot of controversy and questions about the way these situations are handled. Former Police Chief Bill Renton stated at the time, Ontario chiefs should now have the ability to withhold the pay of suspended officers facing serious allegations.