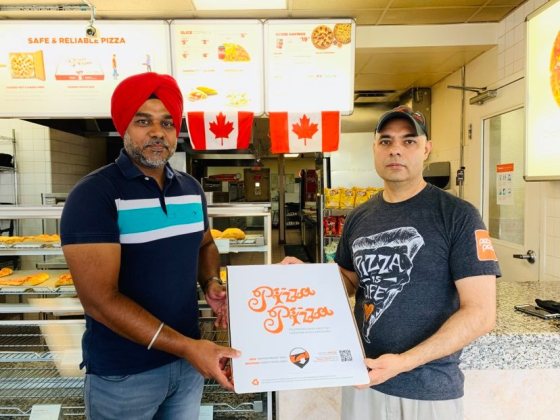 A local man from Woodstock is teaming up with the owner of Pizza Pizza to give away free slices and pop on Canada Day.
WOODSTOCK - Pizza Pizza in Woodstock will offering a free slice of pizza and a can of pop to everyone in the Friendly City on Canada Day.
The free slices will be available at the Dundas Street location between noon and 4 pm on Wednesday. Naseeb Singh Santohay explains he and the owner of Pizza Pizza decided to give away the free pizza to celebrate Canada Day.
"I have always been up for the community and anything I can do for any human being, I am up for, this is my famous phrase that I tell people. This year is different, we can't really go to places and no gatherings at all, so this is what we came up with to have a free slice and celebrate Canada Day."
Singh Santohay says they will have physical distancing measures in place and everyone is invited to stop by for a free slice.
"We are going to have our hand sanitizer, we will be wearing gloves and masks. I suggest when people come to the tent, that will be located just outside the Pizza Pizza, they can use the hand sanitizer and please keep the social distancing. We want to keep everybody safe, including ourselves."