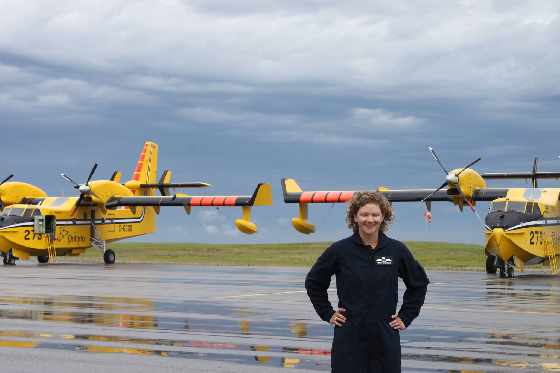 Pilot, Emily Crombez (submitted)
A local pilot from Otterville is the latest recipient of the Elsie Macgill Northern Lights Government Award.
OTTERVILLE - An Otterville native has been honoured for her work as a pilot.
The Northern Lights Aero Foundation has presented Emily Crombez with the Elsie Macgill Northern Lights Government Award.
Crombez says the honour shines a light aviation careers and women in the industry.
"A lot of people aren't even aware that they're out there. A lot of young girls picture some of these roles as male roles or don't even know about them. I think it's all about building awareness while trying to honour some of the people who have really made a significant contribution to the aerospace and aviation community."
Crombez first became interested in the aviation industry in Grade 8, while looking through books at the library with her mother. She also grew up in rural Otterville where she would watch crop dusters spray the tobacco fields close to her home.
She fell in love with flying at the Tillsonburg Airport when she was in Grade 10 and eventually got her pilots license in 2003.
Fast forward about 11 years, Crombez made history as the first woman to pilot the Bombardier CL-415 waterbomber for the Ministry of Natural Resources and Forestry.
She says it was something she worked hard to achieve.
"The whole goal was to fly the CL-415 waterbomber. It was in 2014 where I was trained on that and got checked out. I flew that for three seasons so that was definitely one of the biggest highlights of my career! That is what I had been working towards ever since I graduated."
Crombez is now a First Officer with WestJet, and flies a Boeing 737 out of Toronto's Pearson International Airport.
You can find a list of the other award recipients online here.