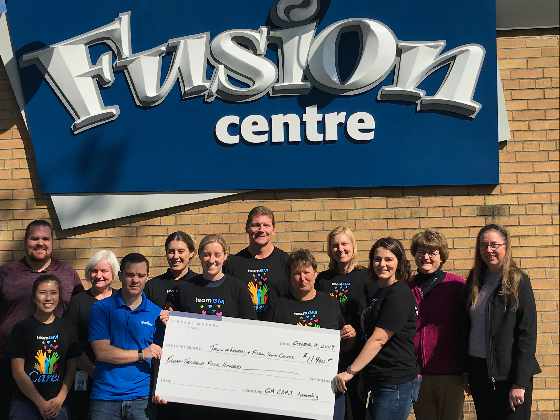 (submitted)
There were two cheque presentations made by the G-M Cami plant at the Youth Fusion Centre. Yesterday's event saw the Youth Centre receive a donation of 5 thousand dollars, which will be put towards a P-S-A video on distracted driving.
INGERSOLL - Representatives from the GM Cami plant made a couple of cheque presentations at the Fusion Youth Centre in Ingersoll.
The first was a $5,000 donation to the Youth Centre, which will go towards a PSA on distracted driving.
G-M Plant Manager Gary Duff says the PSA will educate the youth.
"We really hope the video that they put together around distracted driving be more than just texting and driving, it's actually distracted driving. There's all kinds of studies done on the amount of time it takes, if you take your eyes off the road for five seconds at 90 kilometres an hour that's an entire football field by the time you travel and look back up. So GM is very aware of this and being able to support money to do things for students that understand when they get behind the wheel they need to be paying attention."
The PSA will be shot and edited by kids at the Youth Centre, who range between the ages of 10 to 18 years-old, and it'll premiere early next year.
The other presentation yesterday saw them donate $6,400 to the Town of Ingersoll for their bike repair stations, one of which happens to be at the Youth Centre.
Duff says the bike riding not only gets kids outside and lets them have fun, but it also benefits the environment.
"The bike riding around, obviously the road and vehicle safety, people getting out and exercising but it also goes right along with GM's vision. Zero emissions, zero congestion, zero crashes so the more people are out riding the bikes, the less the emissions are hitting the road."
The presentations were a part of G-M's sustainability program, which allows them to donate to different organizations that are focused on Science, Technology Engineering and Mathematics education (STEM), road and vehicle safety and community development.
Communications Manager at the GM Cami plant Barry Vickery says they have been a longtime partner of the Youth Centre, contributing up to approximately $50,000 for their different initiatives since 2014.
Duff adds it's important to continue developing a community like Ingersoll.
"When you start looking at the youth of the community and we focus a lot on STEM to try get people involved into what our business is and manufacturing, and the Fusion Youth Centre really focuses a lot on STEM programs. And keeping the youth active, having a place to come after school, getting together with other groups and doing things together, learning that the social activities is also very important as well."