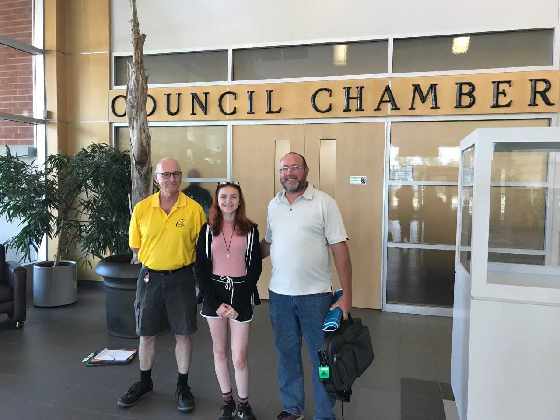 Jessica Hatch shared her International Student Exchange experience with Oxford County Council yesterday.
OXFORD COUNTY - A Grade 8 student from AJ Baker has received the Oxford Community Sustainability Bursary.
This comes after Jessica Hatch did a two month student exchange in France. She lived with a family in Chantilly Gouvieux from February 9th to April 15th of this year.
She learned a thing or two about transportation while overseas, and shared her findings with council yesterday.
"There's a lot of talk about a high speed rail and there's a lot going on about high speed rails in France as well right now. Since by exchange partner's mother took a lot of trains I would learn a lot about them."
Chantilly Gouvieux is about a 20 minute train ride north of Paris.
Oxford County encourages our local students to assess environmental, community and economical topics while on their International Student Exchange, and share what they have learned with county officials.
Brian Smith, a volunteer with International Student Exchange Ontario, says Hatch went above and beyond with her project.
"When Jessica did her exchange she looked at something that cuts across a couple of those categories, the economical and environmental pillars, and looked at what kinds of transportation make an economy work really well."
The $1,000 bursary will help offset the price of the exchange itself, which cost Hatch just under $3,000.
Youth in Grades 8 to 12 can apply for their own student exchange at any time of the year. You can find more information online here or you can contact Brian Smith at 519-456-5270.