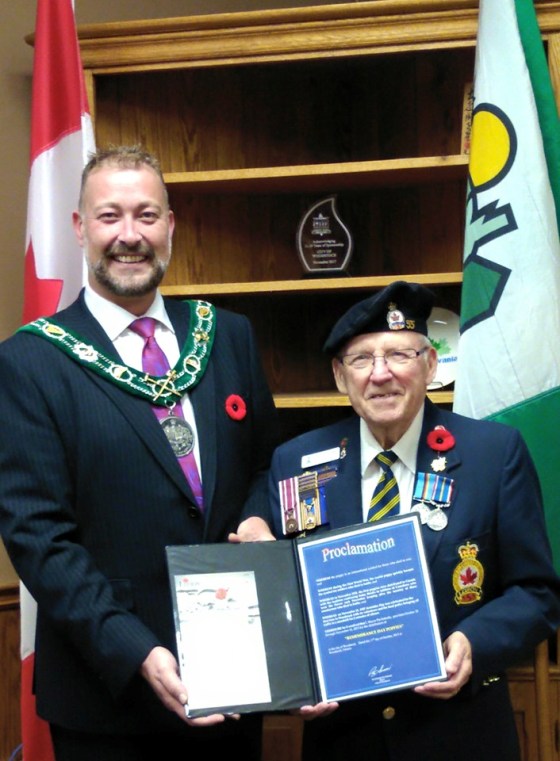 Mayor Trevor Birtch FB photo
Starting today, you will be seeing poppies for sale at local businesses in Woodstock and Oxford County.
WOODSTOCK - In Flanders Fields, Where Poppies Flow, Between the Crosses row by row.
Woodstock Mayor Trevor Birtch provided the official proclamation from the Office of the Mayor today, declaring Monday, October 28th to November 11th to be the official distribution of Remembrance Day Poppies in the City of Woodstock with Royal Canadian Legion Branch 55 Woodstock.
Everyone in Canada is asked to purchase a poppy to show your respect for the men and women who have served our country. It is worn as a way to remember those who have fallen. Mayor Birtch says he always wears his poppy with pride.
"Throughout the Remembrance period, we see Poppies worn with pride in every corner of our lives to honour our Veterans. Poppies may be worn throughout the Remembrance period, including in the evening after Remembrance Day Ceremony. Some choose to remove their Poppy at the conclusion of the ceremony and place their Poppy on the cenotaph or on a wreath as a sign of respect. While Poppies are always free, The Royal Canadian Legion gratefully accepts donations to the Poppy Fund, which directly supports Canada's Veterans and their families in need."
Colour Sergeant for Branch 55 Legion in Woodstock Mike Pritchard explains what they do with the money raised from the poppy campaign.
"The money goes to support any veterans going through hard times, it also goes to help support the dependents of veterans for things like post secondary education with bursaries, we also donate money to the Woodstock Hospital, Sakura House, Meals on Wheels, Parkwood Hospital and Veterans Hospitals in London and surrounding area."
Pritchard says you will start seeing legion members at local businesses today selling the poppies.