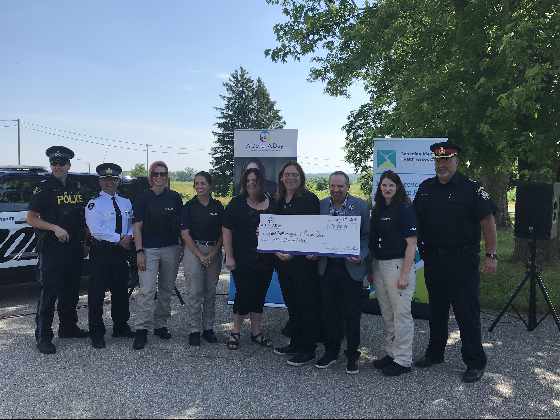 The Mental Health Engagement and Response Team received a $15,000 donation by the Dollar A Day Foundation this morning. Dollar A Day co-founder and musician Alan Doyle was among those in attendance during the presentation at the Woodstock Toyota plant.
WOODSTOCK - The Dollar A Day Foundation made a donation to the Mental Health Engagement and Response Team, or MHEART in Woodstock this morning.
The charity made a cheque presentation inside the Toyota Plant for a donation of $15,000.
Co-founder and musician Alan Doyle was on hand to present. He praised the MHEART program for its contributions.
"We've been going across the country finding good mental health and addictions programs that are already doing great work, that are already doing the hard stuff, and we're just trying to support what they do. And MHEART right here in this area has got an incredible program, you just heard about it, where they bring a mental health councillor along with the Ride Along programs with the police and that kind of intervention, that kind of opportunity for early hands-on counselling and hands-on crisis management is incredibly valuable to both the police and both the people involved. And also, I suppose, to the public because it saves so much time and energy and public funds and hospitals and the like for people who could be helped on the spot, and that's what their program is all about and I think it was a great idea and we're happy to support it."
Doyle was joined by fellow co-founder Brendan Paddick at the event as well.
MHEART is a partnership between the Oxford OPP, Woodstock Police and Canadian Mental Health, where crisis clinicians from CMHA are paired with on-duty police officers to respond to calls which are mental health and addictions related.
The Dollar A Day Foundation was created to raise money to close the gap between the availability of mental health and addictions programs and the growing need for them.
Doyle says the idea for the charity came up after he helped someone going through mental health and addictions.
"It started very organically in downtown St. John's. There was a guy on the street that I used to pass on the way between my house and the Great Big Sea recording studio. I passed him every day and I gave him a buck every day on the road and I heard about his mental health and addictions issues. As bands do, when the record was done I went down the road and I wondered how I could give that guy a dollar a day without actually being there."
He says he then got support from Paddick and Dr. Andrew Furey on making the cause a national initiative. The three of them launched the foundation in February of 2018.
He says it's important to support mental health everywhere.
"I just realized very early on that the guy on the street in St. John's wasn't a one of a kind, it's everywhere. It's all over the country, there are people who need our help and there are people providing that help just like people at MHEART. And the least the rest of us can do, I figured, is reach in our pocket and see if we can find four quarters and give it to them. It feels like such a small thing that we can do to help both the people that need the services and the people who are providing those services at every end of the country."