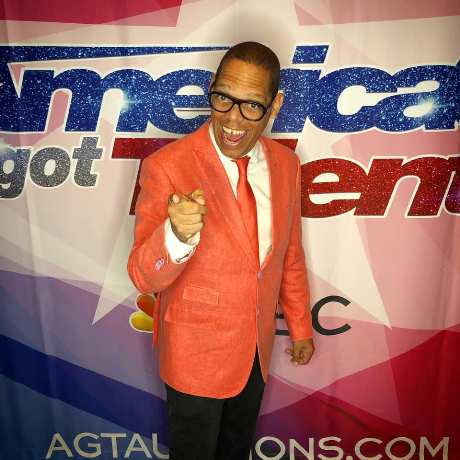 Woodstock's own Greg Morton may have been eliminated last night on America's Got Talent, however after impressing the judges, the audience and people watching at home night after night, the sky is the limit for his future.
Woodstock's own Greg Morton came up just short in his quest to win the Million Dollar prize on America's Got Talent.
Morton was eliminated last night after making it all the way to the Semi Finals. He made four performances on the show, amazing the judges, the audience and the viewers at home with his spot on impersonations and ability to tie in several movies or characters into one bit. The first performance was his iconic Star Wars routine, then he started doing characters from some of his other favourite movies growing up. He did his cartoon impersonations featuring the Looney Tunes, Scooby Doo and even Bobby's World, just for Howie Mandel for the Semi Final bit. Morton was eliminated last night in the results show.
Morton was on the Heart FM morning show with John and Sabrina and says he wasn't shocked that his name wasn't called last night.
"I kind of saw the writing on the wall when I heard Simon's comments the night before. I don't think I did anything different really, the style was the same, kind of a mashup of different voices in the same format and when I heard Simon's comments, I thought, well I think they already have their top 5."
Despite his departure from America's Got Talent, Woodstock and the entire nation is beyond proud of funny man Greg Morton. Morton says the response from his family and friends and everyone has been amazing.
"I got a huge response afterwards and I have had a lot of well wishers. I thought I did well, the piece I did, I thought I nailed it and I think I ended it well."
Morton has gotten a lot of exposure from the show and says he doesn't see any problem finding work after his time on AGT.
"I have already had an offer from some people at the Laugh Factory at the Tropicana in Las Vegas. If we can work something out with them, I will be there for New Years Eve for a New Years Eve show. I have also had some phone calls from an agency in Los Angeles that handle voice over work and they are very interested, they want to meet with me. I have had some amazing offers overseas for gigs in Dubai, Taiwan, just crazy places."
Despite all these amazing offers, Morton has not forgotten where he came from. His career started as a DJ and if your reading this, it's possible he even performed at your wedding. Morton says he is coming back to Woodstock for the annual CASS show in October.