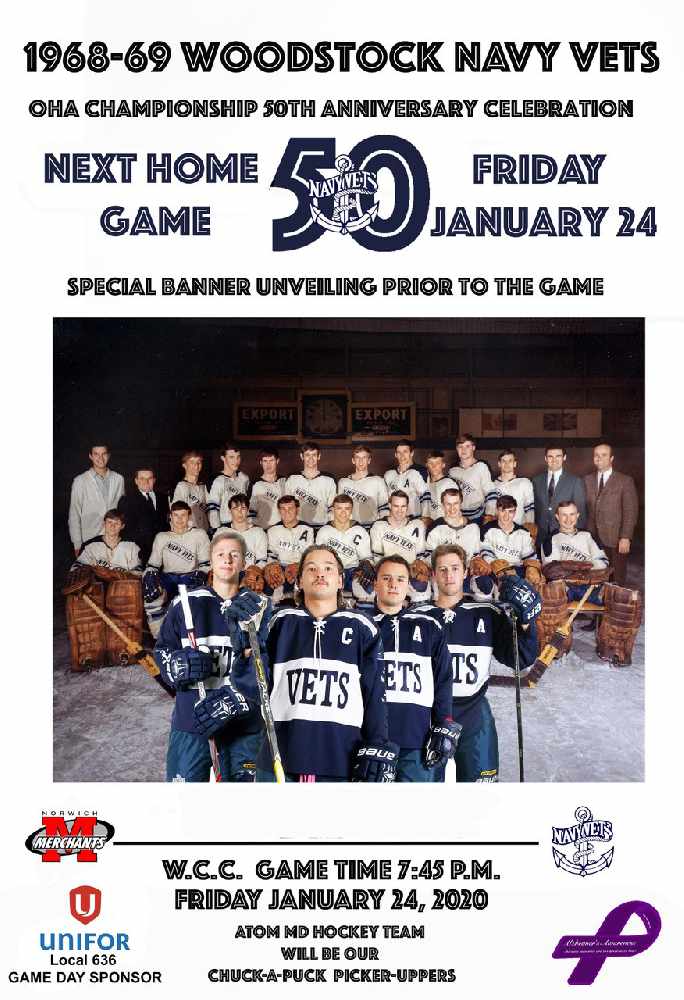 The Woodstock Navy Vets banner raising ceremony will happen this Friday as the Vets host Norwich. The game against Tavistock has been rescheduled to Tuesday January 28th.
WOODSTOCK - The Woodstock Navy Vets game vs. the Tavistock Braves that was meant to happen last Saturday was cancelled but has been rescheduled.
The game was an important event due to the banner raising commemorating the 1969 OHA Jr C Championship win which was the first year that a Woodstock team had won all Ontario Championship since the first team in 1966.
Goalie for the Vets from 1968 to 1972 Cam Roberts explains how he feels after being recognized for this achievement.
"What it means to us is the Navy Vets are very well known group and it kind of symbolizes Woodstock Ontario, and I feel most people know that Woodstock is the Navy Vets so from there we are one of the first teams and the tradition has carried on we got treated back in the 60's and I'm sure it stands today but the organization treated us like we were young professionals they were so good to us and it was an honor to play and a privilege and 50 years later it is an emotional privilege and honor to be able to go and stand on the same ice as the 2019 and 2020 team."
The game against Tavistock has been rescheduled to Tuesday January 28th at Southwood Arena, warm ups begin at 8:15 a.m. and puck drops at 8:45 p.m. instead of the usual time.
The banner Ceremony has been rescheduled to this coming Friday when the Vets play Norwich, prior to the games start their will be introductions on the ice of the members or family of the 1969 team, followed by the 16 by 16 foot banner unveiling, then after the game a reception will be held for the alumni and current Navy Vets where fans are welcome to drop in for autographs and to meet the past and present Navy Vets players.
Woodstock will host Norwich at Southwood Arena on Friday at 7:45 PM, the alumni reception will be held in Goff Hall after the game.