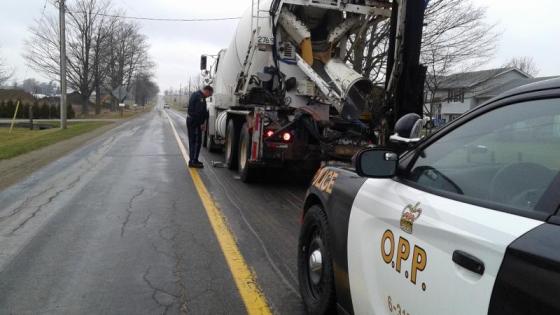 file photo
Two Commercial Motor Vehicle's were taken out of service and 12 drivers were charged during Operation Corridor in Oxford County yesterday.
WOODSTOCK - Oxford OPP inspected 10 Commercial Motor Vehicle's yesterday during Operation Corridor.
The Corridor is a joint effort from the Highway Safety Division, Oxford OPP and Ministry of Transportation and commercial motor vehicle inspectors were proactive with enforcement of the Operation Corridor traffic safety initiative.
Two CMV's were out of service during the blitz. 12 drivers were charged under various Highway Traffic Act violations for things like no validation permit, improper permit, no name on CMV, defective braking system, over weight violation, drive with major defect, fail to supply driver with schedule, CMV follow too closely, speeding, fail to produce dangerous goods training certificate, fail to register vehicle and exceed registered gross weight.
Improper lane changes, inattentive driving and following too closely were factors in almost half of all OPP-investigated transport truck crashes over the past five years (2014-2018).
Operation Corridor is an annual 24-hour enforcement and education campaign conducted in partnership with the Ministry of Transportation.
The initiative targets commercial vehicle drivers with the goal of reducing deaths, injuries and collisions that involve commercial motor vehicles.