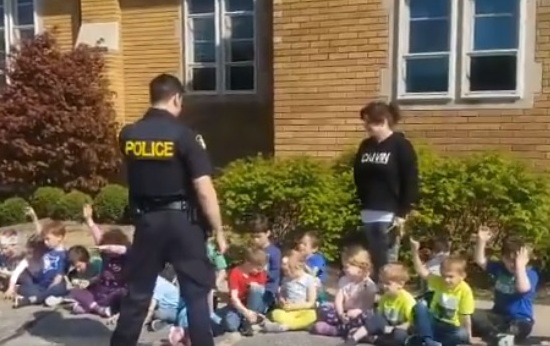 photo courtesy of the OPP Twitter
OPP officers were at the elementary schools in Delhi today to make sure the kids have safe bikes and preaching safety first when the kids are cycling this summer.
DELHI - The Norfolk OPP held a bike rodeo for the two Elementary Schools in Delhi today.
The goal of the event is to raise awareness about safe cycling practices and preach the importance of wearing your helmet. The kids brought their bikes to school so they can get a safety check. Constable Ed Sanchuk says the reaction from the kids was priceless.
"It was great to interact with the kids, they really enjoyed seeing the police there as well. It was great to show the kids that Police take bicycle safety really seriously and get down on the kids level, sit down on the ground and talk to them. We had a group of kindergartners watching the bicycle rodeo as it unfolded, so we had a chance to talk about bicycle safety and what police officers do in the community. It is a great opportunity for us to get out and interact with our kids but more importantly teach them about safety and make sure that they are safe during the summer months."
Sanchuk says the main focus is on safety.
"We talk do the kids about what they need to do when they come to an intersection, what they need to do when they cross the street. We ask the kids, do you get off your bike when you cross the street, because that is what you should be doing. We have bicycle helmets that are being properly fitted and we are checking the bikes for safety. Looking at the brakes, making sure the steering is not loose, we actually had to pull a bike today because it was not safe."
Sanchuk adds it is crucial that parents talk to their kids about bicycle safety and make sure the bicycle is in good operating condition before they ride it.
Make sure YOU speak to your child about #bicycle safety. #OPP partner with the #Delhi Community Policing Committee for annual #bicycle rodeo. #PoliceWeekON @NorfolkCountyCA @NorfolkCoFire @hncrimestoppers #NorfolkOPP ^es https://t.co/NTDbgFifSu

— OPP West (@OPP_WR) May 15, 2019