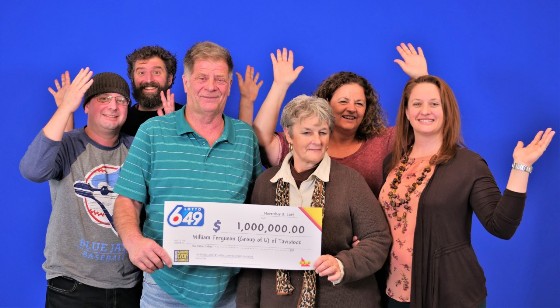 Six family members from Oxford County are $1 million dollars richer today after playing lotto 6/49.
OXFORD COUNTY - Six family members from Oxford County who split on a Lotto 6/49 ticket will be splitting a million dollars.
The family purchased their winning ticket from Tavistock Gas & Variety on Woodstock Street in Tavistock. The group members are as follows:
- William Ferguson of Tavistock
- Kari Puklicz of New Hamburg
- Kenneth Ferguson of Tavistock
- Kimberly Vanderhyden of Tavistock
- Kristopher Ferguson of Mount Albert
- Linda Ferguson of Tavistock
Group leader William Ferguson says everyone is thrilled with this life changing win.
"We heard there was a winning ticket sold in the area. When we checked our ticket at the store, it turned out that we were the winners!"
The group of family members all agree that this win is shocking and life changing. They have plans to use their winnings to pay bills and complete some home renovations.