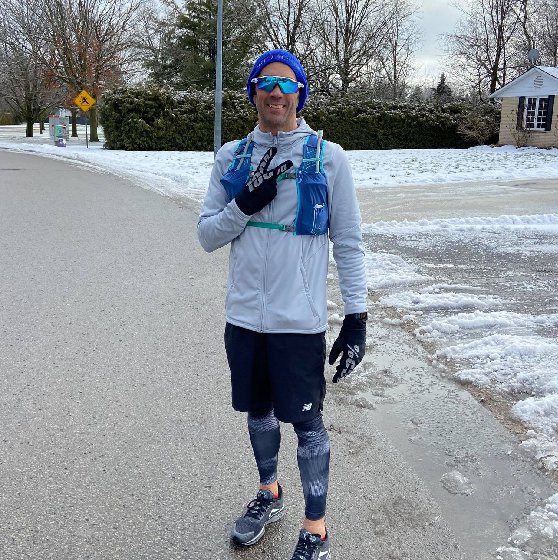 George Papadakos has completed 13 marathons so far this month and he has raised over $25,000 for the Alzheimer Society of Oxford.
TILLSONBURG - A Tillsonburg man is in the home stretch of his quest to run a marathon every day in January for the Alzheimer's Society of Oxford County.
George Papadakos has completed 13 marathons so far and was working on his 14th yesterday. He says the community has helped him out, by doing some of his kilometres for him.
"The community has really rallied around, not only me but the charity itself. There has been a huge community of people who have donated their kilometres to me on the daily. We have had up to 380 kilometres a day sent into me. When you have a family of four going out for a 5 km walk, the kilometres add up."
Papadakos says he started out strong doing 9 marathons in 9 days.
"The 10th day, I woke up, I had tendentious in my Achilles, so I took a day to collaborate with my doctor and see you know what I should do, so I had to wait for an ultrasound and the community picked up kilometres for me until I was back on my feet and I could run a little bit without the pain."
Already he has done almost 700 kilometres on his own during the month of January. He plans to do at least 3 more before the end of the month.
"I'm hoping to get another 3 more done to get over the halfway mark, obviously it's not 31 marathons in 31 days but the way that is actually reached in the community, it has been truly amazing what the community has done to rally around me and the community. It's not just Tillsonburg, it's been Ingersoll, Woodstock, all across Oxford County and beyond. the support has been amazing."
Papadakos explains why he wanted to this fundraiser during Alzheimer's month.
"The society has been a huge part of our families lives. We have supported it for over 20 years. My wife has been a respite worker with them, she has volunteered with them. My daughter has been an active fundraiser for their Walk of Memories, which normally takes place in January, which is why we are doing the big marathon push in January. My wife lost a grandmother and an aunt to Alzheimer's and a dementia related disease as well."
Papadakos says the support has been phenomenal and he's already raised over $25,000 as he tries to reach $30,000. You can find more information on how to donate online here.