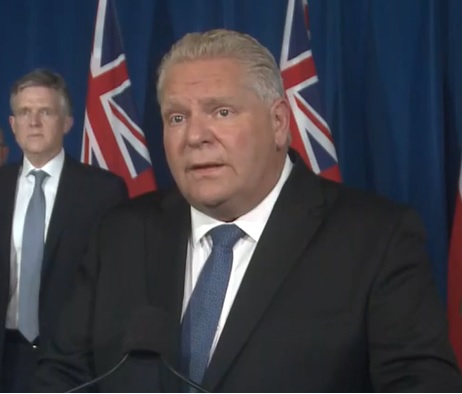 Premier Doug Ford announced today he is moving Peel and Toronto into lockdown on Monday.
ONTARIO - The Province of Ontario is moving Toronto and Peel Regions a lockdown starting on Monday.
Premier Doug Ford says we are now teetering on the edge of having to delay surgeries.
"My friends I have been clear on this, the situation is extremely serious and further action is required to avoid the worst case scenario, where the rate of community spread in the greatest and the risk to our schools, long term care homes, hospitals is the greatest."
Ford says last week our modelling showed that if nothing was done, we could face 6,000 new cases in the coming weeks.
"Overwhelming our ICU's shortly after that, more deaths, more losses, but we can avoid this, if we take further action now."
Effective Monday Toronto and Peel will move into a lockdown. Ford says he will be providing more supports for impacted businesses.
"We are doubling our supports for businesses impacted by these measures. I have directed that $600 million dollars in relief be made available immediately to help these businesses with fixed costs. We will be there for these folks."
Ford also encourages everyone to shop local and reminds everyone that you can buy the exact same product you find on Amazon at a local store. He is also asking people to not panic buying.
"By avoiding the panic buying, we can make sure the supply chains are not impacted and there is enough for everyone.
You can listen to his full remarks from this morning below: