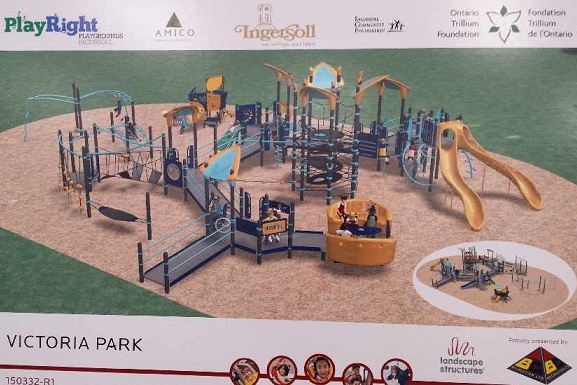 It's going to take a little elbow grease to build a fully accessible playground in Ingersoll
INGERSOLL - The money has been raised, the plans are done, and now volunteers are needed to help build the largest playground in Ingersoll.
The build is set to take place in the first week of July at Victoria Park. Executive Director with Playright Playgrounds Ingersoll, Dave Cripps is hoping many people will volunteer their time. "We are looking for anyone that can basically help out. It is an adult project but kids are welcome to stop in. It's great to have some trades people out there that have some experience in construction, but like I said, anyone who can work a shovel or isn't afraid to break a little sweat - we can put them to work." The hope is to have at least 25 volunteers per day because Playright Playgrounds hopes to have the project completed in just 4 days - July 2nd, 3rd, 4th, and 5th.
Cripps explains why this playground will be different from others. "It is a fully accessible playground, and one of the key features is it will actually be connected to the existing pathway that goes through Victoria Park. You will be able to roll a wheel chair right onto the equipment and then there is multiple ramps that will let you get on and off both sides."
Playright Playgrounds has received $225 000 from various foundations to help with the cost. The Trillium Foundation, the Ingersoll Community Foundation, and the Town of Ingersoll have all put money forward to build the fully accessible park.
Anyone interested in volunteering is invited to an information and training session on June 20th from 2 - 4 p.m. at the Victoria Community Centre.