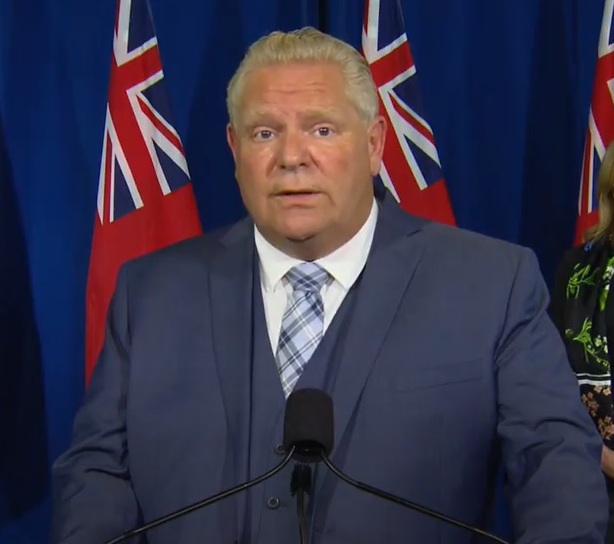 Former General Rick Hillier joined Doug Ford for his daily press conference today to talk about the vaccine rollout in the New Year.
ONTARIO - The Ontario government is calling the federal government to immediately lay out its plan to allocate COVID-19 vaccines across the country.
Premier Doug Ford says they are doing everything they can to prepare to ensure the province is ready when the vaccine is made available.
"With other jurisdictions ready to roll out vaccines as early as next month, Ontario and Canada should not be last in line to receive this vaccine. I'm calling on the Prime Minister today to provide certainty that the contracts we've signed are rock solid and that Ottawa will provide detailed information to support provincial planning, including when, how much, and what type of each vaccine we're getting. The sooner we get a vaccine, the sooner we can offer that added protection for our frontline staff and most vulnerable, take pressure off of our hospitals, and begin to return life back to normal."
The task force will be chaired by retired General Rick Hillier. Hillier says they will be ready to receive, store, and administer the vaccines in an ethical, timely and effective manner as soon as they are available.
"It was my duty to agree to the Premier's request to lead the task force in this war to defeat COVID-19. We will be ready as of December 31, 2020 to receive the vaccine, no matter when it arrives, and to ensure the people of Ontario are vaccinated. Our task force team is integrated, professional, and committed."
Health Minister Christine Elliott says the COVID-19 vaccines require special handling and storing and we have the right person for the job.
"Our government is building the capacity to undertake this monumental task, and I know that with General Hillier at the helm we are in good hands as we move forward with Ontario's COVID-19 immunization program. This is a critical stage in our fight against COVID-19 that will require us to work together, as a province and as a country, to face the challenges ahead of us to protect the health and well-being of each and every Ontarian."
You can listen to the remarks from the Premier below: