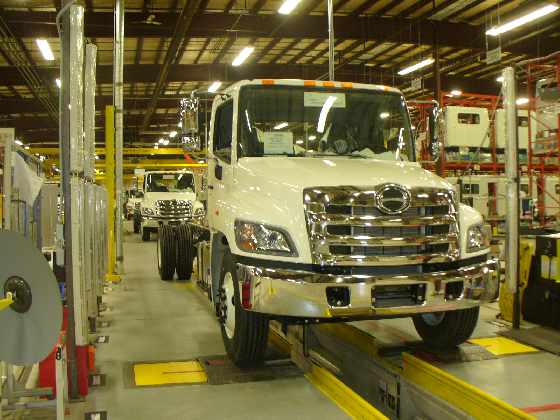 Two major companies in Woodstock are benefiting from some Provincial funding.
WOODSTOCK - Soprema Canada was not the only company from Woodstock benefit from the SouthWestern Ontario Development Fund.
Hino Canada has been given $283,000 from the development fund to support a $3.8 million investment by the company. Hino is using the money to by new equipment and expand its product offerings. This will allow them to build a new range of trucks.
The funding will help them create 10 new jobs and retain 100 positions. It will be completed by December 2021. Senior Vice President of Hino Motors Canada Eric Smith says the funding will help them expand their business.
"Hino Motors Canada takes pride in delivering superior products and services to our valued customers across Canada. This product line expansion is a key part of our growth strategy to strengthen our position within the North American market. Additionally, this investment will help Hino to expand product offerings to meet the growing demand for our quality products."
Last week it was announced that Soprema Canada will be getting over $3.7 million dollars from the Development fund to build a new facility in Woodstock in the Commerceway Business Park.
The project will create at least 50 new jobs in Woodstock. Executive Vice President and CEO of Soprema North America Richard Voyer had this to say about the Woodstock plant in a news release.
"Our new Woodstock plant will feature state-of-the-art production technology and is a major milestone in the evolution of SOPREMA Canada. This investment, combined with our superior customer service and continuous innovation, will enable us to meet the increasingly high expectations of our customers and rapidly changing market."