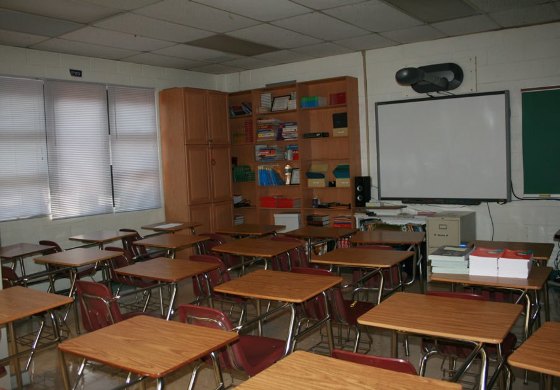 stock photo
English speaking catholic teachers are striking today, meaning schools are closed. The one day strike was announced last week as talks with the Province continue to stall.
OXFORD COUNTY - English speaking Catholic schools, both Elementary and Secondary will be closed today across the Province.
Members of the Ontario Catholic English Teachers Association are staging a one day strike today, as talks with the Province have completely broken down.
Union President Liz Stuart says they are hoping to send a message with this one day strike.
"It has become clear that this government will only do the right thing when they are under pressure from Ontarians. They have left us little choice but to take the next legal step in the bargaining process."
Today's strike coincides with rotating one day strikes from the Elementary Teachers Federation of Ontario. Locally this is having an impact today for students in the Grand Erie District School Board. Tomorrow, elementary teachers from the Thames Valley District School Board will be on strike and the schools will be closed to students. Parents are being asked to make alternate arrangements for day care.
ETFO President Sam Hammond says talks with the Province are at a stand still.
"In the 28 days since our last bargaining session on December 19, 2019, the Ford government and Minister Lecce have had ample time to return to contract talks with ETFO and they have chosen not to do so. We have no choice but to commence rotating strikes starting this Monday as our only means of forcing the government to get serious about negotiations and the future of public education.'
Hammond says the Education Minister has left them with no choice.

"Education Minister Lecce is being disingenuous when he says there has been no movement in elementary contract talks. ETFO tabled revised proposals in late December on key issues affecting students and educators. The government has given no response and made no commitment to return to bargaining talks in 28 days. It is crystal clear that the Ford government is only interested in cuts to public education. There has been little discussion on ETFO's proposals for: smaller classes where students get the help they need; more resources for students with special needs; protection of our world-renowned Kindergarten program; and fair compensation for educators. We are urging the Minister to get back to the table and discuss the critical issues that parents and educators care about."
Ontario Education Minister Stephen Lecce says the Province will reimburse parents for additional daycare costs.
"Our aim has always been to reach a negotiated settlement that keeps kids in class, which we have done successfully with multiple labour partners to date. We recognize the impact of union escalation on families is real, and unions expect hard-working families to bear the costs of their cyclical labour action. While unions impose hardship on families and students, our government is taking proactive steps to ensure students remain cared for — and families supported — in the event that unions decide to further escalate job action in their fight for enhanced compensation and other demands. The contrast could not be clearer."
Financial support will be provided to parents for each day of school that a child misses on account of a labour disruption, or each day of child care that is not available if offered from a closed school.
Eligible parents of children up to age 12 (Grade 7), or up to age 21 for children and youth with special needs, in a publicly funded school, qualify for:
- $60 per day for children aged 0-6 who are not yet enrolled in school but attend a school-based child care centre that is required to close on account of the strike.
- $40 per day for students in Junior Kindergarten (JK) and Senior Kindergarten (SK).
- $25 per day for students in Grades 1 up to and including Grade 7.
- $40 total per day for students in JK up to and including Grade 12 with a special need(s).
The City of Woodstock is offering day camps during the strikes. You can find more information online here.