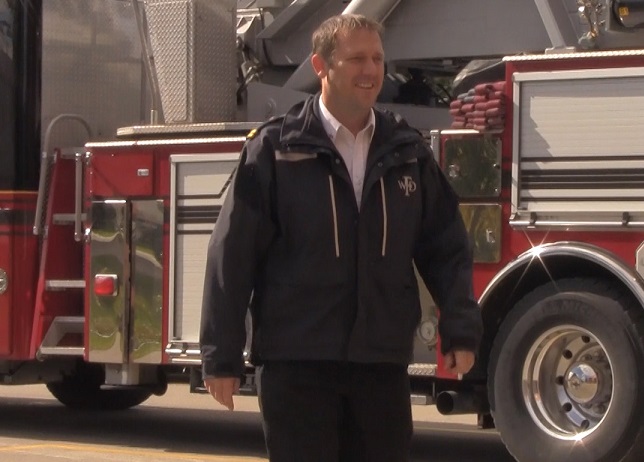 The City of Woodstock has made it official and Jeff Slager is the Fire Chief in the Friendly City.
WOODSTOCK - The City of Woodstock has made it official and Jeff Slager is the Fire Chief in the Friendly City.
They are dropping the interim tag beside Jeff Slager's name. Slager was born and raised in Woodstock and has been with the fire department since 1996 and was promoted to Deputy Chief in 2016. He has served as the acting fire chief for the past 2 1/2 years in the absence of Scott Tegler, who officially stepped down this Spring. Slager says it is an honour to serve as the Fire Chief in the only City he has ever known.
"I am born and raised here in Woodstock and 23 years ago it was a highlight to be able to join the fire service, riding on the trucks and being able to give back to the community. It is a great honour, I look forward to the challenges that it will face and I am quite excited to see how we can grow. We have made leaps and bounds in changes in the past couple of decades and I am excited to see where I can take it from here."
Slager says he is excited to face the challenge head on.
"We do have the challenge of making sure that we maintain the same level of suppression and services across the board as the City continues to grow. Monitoring the continued growth of the City in both our industrial and residential growth and making sure we have the services and the manpower and the equipment to be able to do that is always going to be an ongoing task and an ongoing challenge for us."
Slager also wants to focus on educational components in the department, to make sure they are on the cutting edge of firefighting.
In May of this year, Council directed staff to commence the search to identify the best candidate for the Woodstock Fire Chief. After a through recruitment process it was clear that Mr. Slager was the superior candidate.
Mayor Trevor Birtch says they are thrilled to have Mr. Slager as the Fire Chief in Woodstock.
"We are very pleased that Mr. Slager will be our new Fire Chief. As a Woodstock native he has a strong understanding of and commitment to our community. Jeff has provided exemplary service in all his roles in the department and has performed extremely well as the Acting Chief over the past two and a half years. The choice of Jeff as Fire Chief will strengthen the department and the fire services provided to the Friendly City."