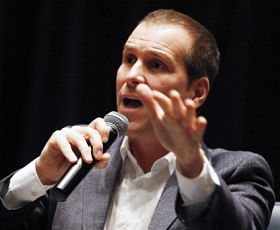 Oxford County's municipal leaders met to discuss the steps to making this a 100% Renewable Energy Community
INGERSOLL - The geographic potential of Oxford County to produce renewable and sustainable energy is huge.
That's one of the statements made Thursday morning at a special roundtable meeting of County leaders hosted in Ingersoll.
Associate Professor at York University and Co-Chair of the Sustainable Energy Initiative Dr Jose Etcheverry hosted the discussion and says the opportunity to make a difference in the world is within reach for all of us. "The question is, how do we do it? The solutions we have discussed here may need the use of sustainability as an approach and renewable energy as a strategy and are an opportunity for the County and also the province to become a world class leader of these sustainability challenges."
Currently, Etcheverry says Oxford County operates on about 2 percent renewable energy but he says 100 percent renewable energy is quite attainable if we have leaders who are willing to lead and work toward that goal. He used the analogy of someone climbing a mountain and said the first few steps will be difficult as it is something that you had never done before. But Etcheverry says the more effort and energy you put in, the easier it will become and the more momentum you will create.
He says people should care about renewable energy because they should be thinking about the kind of world they are leaving for their children, but there are also economic reasons. "There is this opportunity to actually redirect the money we all spend. Instead of going to contaminate the atmosphere or destroy the planet, it could actually create jobs right here in our community. "
Etcheverry says if you take a community with ten thousand families spending an average of five thousand dollars each per year on energy, that's 50 million dollars a year that is exported outside of the community.
He says there are three steps community leaders need to take in order to become a 100 % Renewable Energy Community.
Etcheverry says once you decide to invest you develop the ability to become a world class leader as there are just a small number of people on the planet who are leading on sustainability approaches.
Those in attendance agreed to continue to keep the conversation going on the possibilities for Oxford County.