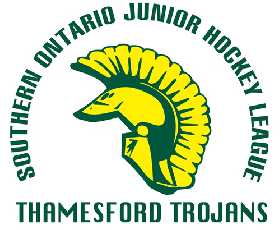 Stock photo
The hockey club is expected to wrap up their exhibition schedule on September 10th against the Lucan Irish. They'll play in their home opener on September 13th.
THAMESFORD - The Thamesford Trojans are getting ready for another season of junior hockey.
They just started their pre-season last week, beating the Lucan Irish.
Promotional Director Todd Arthur says training camp went very well.
"We've got one on September 10th against Lucan again, in Thamesford, and our season opener is Friday, September 13th."
The Trojans defeated Lucan 6-2 on August 21st. Arthur says their home opener will see the club give out free hot dogs to fans.
Thamesford finished in fifth place last year. The club then made it to the second round of the post-season, where they fell to the Dorchester Dolphins in four straight games.
He says they're looking forward to the upcoming season.
"We finished in fifth place last year, hopefully this year we'll do better. We've got a young team that's eager to play and hopefully they'll do us proud."
The Trojans will host Lucan in their first game of the season, beginning at 7:30 pm.