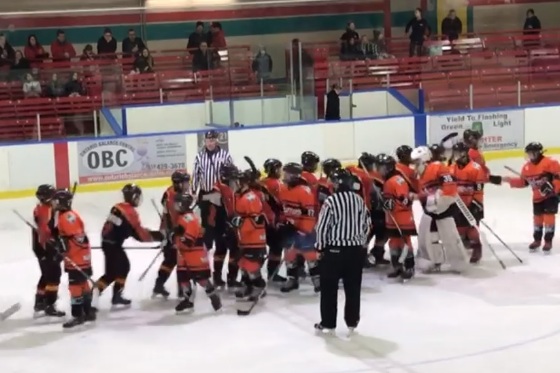 submitted photo
No drama on Saturday in the first matchup between Paris and Simcoe since a reported "brawl" erupted between the parents of the two teams last week.
SIMCOE - The Paris Wolfpack beat the Simcoe Warriors on Saturday in a tense playoff game for the 11-13 year old boys.
It was the first matchup between the two since a reported brawl erupted between the parents of the two teams last week. Several media outlets, including Heart FM ran with the story about police responding to a huge brawl between 30 parents on Sunday February 2nd.
We have since come to learn from parents and coaches who were at the game on the 2nd that no brawl actually took place. There was heated exchange between parents and some questionable judgement for sure, however the story of a brawl was grossly exaggerated.
The game on Saturday was a tense affair on the ice. Off the ice though the parents were cordial and even shared a few jokes about how much the story had been blown out of proportion. Paris and Simcoe have a long history of hockey rivalries and the series between the Wolfpack and the Warriors this past week will certainly add to that lore.
Paris won the game on Saturday 4-3.