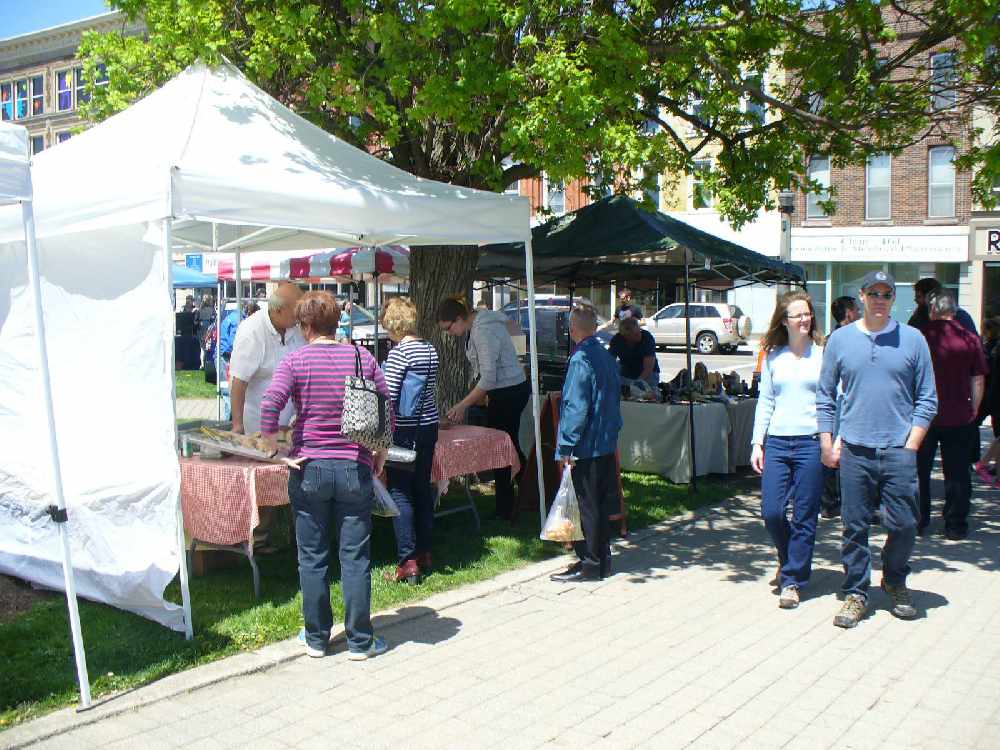 stock photo
You will find local businesses and products at the Woodstock Downtown Farmers' Market.
WOODSTOCK - You can head to the Downtown Woodstock Farmers' Market beginning tomorrow.
Downie Street Bakehouse and Habitual Chocolate are just a few of the business that will be in attendance.
Events and Marketing Coordinator, Dalton Beseau says these businesses, along with others, bring their products for everyone to see.
"We have Downie Street Bakehouse. He comes in from Stratford and he brings a lot of really good breads, he makes them in house every morning and then he brings them here for the market. We also have Habitual Chocolate, which is a downtown business. They come out, starting last season, and they're going to be bringing their in house-made ice cream and it's probably the best ice cream I've ever had. So that's a treat, especially in the warm weather when it gets to June, July and August. We also have Orange Door Acres, they're a local farm from Woodstock and they bring half chickens, quarter chickens, chicken wings as well as all the spices. And then he's also going to be bringing samples from Gunn's Hill Cheese, which will be something new to the market this year."
Beseau says the local aspect drives people every year.
"I think it has a lot to do with the local aspect. All of the vendors that come to the market are local vendors and they bring a variety of different products, and they're all typically baked either in house or they're grown on their farms and they're picked either in the morning then they bring them to market or they're bake them in the morning and they bring them to market. So I think it's a locally grown aspect, as well as it's fresh. From what I understand, all of the products are fresh, basically right hot off the press and then they bring them straight to market. So everybody that comes knows they're going to get a locally grown, fresh product, not something that's been sitting on the store shelves for a while."
He says this is the type of attraction that brings people together and gives them a reason to come to the downtown area.
"I think just having something of this nature in the downtown area brings a lot of people that wouldn't otherwise come to downtown. So it brings local businesses into the market on their lunch hours or when they get a break, it brings the public from areas that they wouldn't otherwise come down for, so it brings people from the west end, east end, south and north. It's just kind of a nice way for everybody to get together throughout the day and get some locally grown, fresh produce, fresh bread, fresh chickens, homemade ice cream, etc."
The market happens every Thursday until October 3rd at the Museum Square. It runs from 11:00am to 4:00pm.