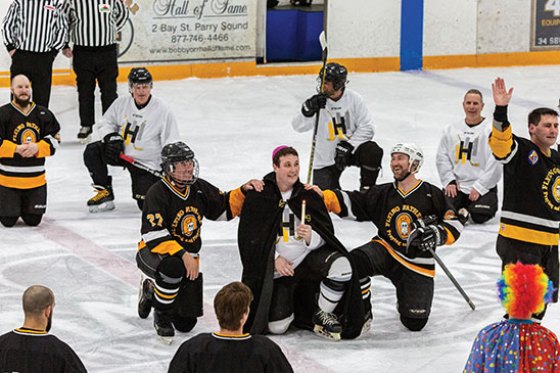 Courtesy: Flying Fathers Hockey
Alumni from the Tillsonburg Thunder will face off against the Flying Fathers in a charity hockey game this weekend. The exhibition will be at the Memorial Arena in Tillsonburg at 3:30 pm on Sunday and all the funds raised will go towards the local program Hockey 4 Everyone.
TILLSONBURG - The Memorial Arena in Tillsonburg will host a charity exhibition game featuring the Tillsonburg Thunder alumni and the Flying Fathers.
The Flying Fathers are made up of several priests and one monk from across Canada, who will suit up this Sunday.
Thunder President Michael Holly says he organized it after he learned the Flying Fathers had got back together.
"I'd seen them originally back I guess as a teenager when I was in my semi-teenage years in Cambridge they'd played the Galt Hornets and I had a great time. I didn't know what to expect but it's basically think of the Harlem Globetrotters on skates, it was hilarious."
All of the money raised at the game will go towards the local program Hockey 4 Everyone. Hockey 4 Everyone provides equipment and ice for kids in grades 2 to 8 who are not playing organized hockey.
Holly says their team has been supporting that program for many years.
"I play hockey with a lot of the guys from Hockey 4 Everyone program too and I see the dedication of the men that are running the program and any support that I and the hockey team can give, we'll always give."
Tickets are $15.00 each and they're currently on sale. You can contact Holly to either or reserve them at 519-983-0050
The game starts at 3:30 pm.