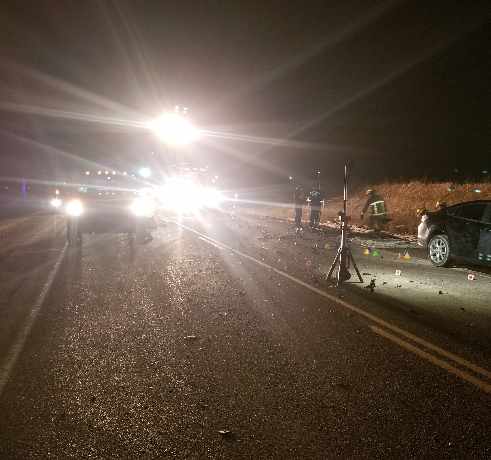 Photo credit: Middlesex County OPP
A vehicle was travelling eastbound and crossed into the westbound lane, colliding with another vehicle on Hamilton Road last night just east of Putnam Road.
UPDATE: OPP have identified the two people in the double fatal collision from last night.
77 year old Rachelle Plowright of Dorchester was pronounced deceased at the scene. Plowright was very active in her community, she was a member of the local choir and acted in several local plays. She also volunteered for many years at the hospice in Bancroft and will be greatly missed by her friends and family.
39 year old Michael Archer of Woodstock was taken to the hospital in critical condition following the crash. He later died at the hospital. Archer was well known in the community as a great family man, who was a restaurateur and someone who always was willing to help out local charities and businesses.
Tributes have been pouring in for Michael Archer all day on social media, including this one from the Mayor of Woodstock Trevor Birtch.
---
ORIGINAL STORY
THAMES CENTRE - Two people have died following a collision on Hamilton Road, just east of Putnam Road in Thames Centre.
The Middlesex County OPP responded to the incident yesterday around 6:00 pm after a vehicle that was travelling eastbound crossed into the westbound lane and hit another car head on.
A 77-year-old woman, who was travelling in the westbound lane was pronounced dead at scene, while a 39-year-old man was sent to hospital with life-threatening injuries. He died later in hospital.
Middlesex-London Paramedic Services, along with Thames Centre Fire were on scene and the OPP Technical Collision Investigators (TCI) are also assisting on scene. The road will remain closed to allow emergency responders safe access to the crash site.
Next of kin notifications are currently underway.
The investigation is ongoing and the road is expected to be reopened later in the evening.