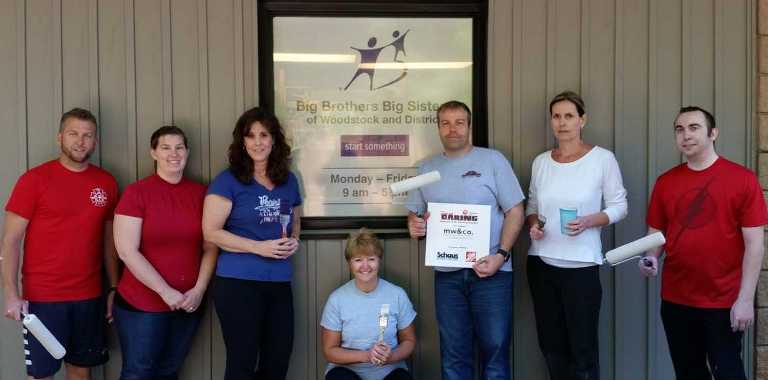 file photo
Everyone is encouraged to take part in the first ever Virtual Day of Caring from United Way Oxford today.
OXFORD COUNTY - OXFORD COUNTY - Today is the first ever virtual United Way Oxford Day of Caring.
Day of Caring is about project planning, team building, community awareness and making a difference. Projects span across Oxford County and this day demonstrates the power of volunteers and the collective impact we have when we work together.
It has been happening for 15 years in Oxford County and over 1,100 volunteers have completed 145 projects.
This year's Day of Caring is happening on today, Thursday June 4th and will be the first ever Virtual Community Day of Caring. Individuals, families and workplaces can get involved by completing simple acts of kindness in our community.
There are some suggestion on how people can #LoveYourNeighbour on our Facebook and Instagram pages, or people are feel free to get creative and develop their own projects! United Way says they want to spread the love on our social media, so be sure to tag them @UnitedWayOxford and use our hashtag #LoveYourNeighbour when posting about your Day of Caring activities.
As they prepare to host our first ever Virtual Community Day of Caring, you might be wondering how you can get involved?
1. Support a local food drive. We will have drive thru food bank donation tents set up at Shoppers Drug Marts in Woodstock (both locations), Norwich and Ingersoll from 1:00 pm – 3:00 pm on Day of Caring.
2. Donate essentials such as diapers, wipes, and formula to help Mother's & Babies in need! Beginnings Family Services will be accepting donations June 4th from 9am-4pm at 28 Wellington St. N. in Woodstock.
3. Reach out to an isolated Senior! Big Brothers Big Sisters of Oxford County have a wonderful program, follow this link to sign up.
4. Support a local business! Visit https://www.supportingoxford.ca for a full listing of small businesses in our community.
5. Say thank you to someone who made a difference.
6. Pick up litter around your neighbourhood.
7. Spread cheer by creating and sharing rock art or positive sidewalk messages in your community.
8. Share a positive message on your social media.
9. Do a porch drop off for a loved one or neighbour to brighten their day.
10. Give at www.unitedwayoxford.ca/donate - all funds stay 100% local and support our COVID-19 Community Response Fund!
United Way Oxford says they are grateful to our Day of Caring sponsor again this year, mw&co., for their continued support. If you are a local workplace wanting more information on how to get involved, please visit here