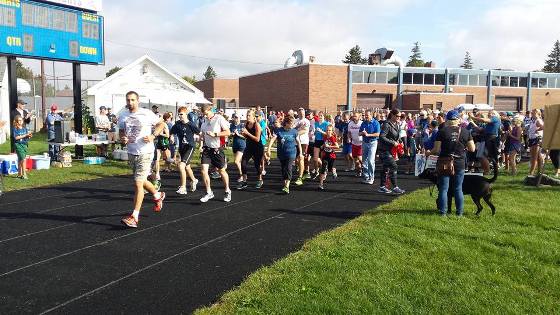 Stock photo
A meeting will be happening at South Gate Centre for anyone looking to volunteer for the Terry Fox Run.
WOODSTOCK - The Terry Fox Run is coming up in Woodstock again this year and organizers are looking for volunteers.
The campaign will begin in July, as volunteers will appear in multiple events across town promoting the run later this year.
Co-Chair John Versaevel says the campaign will be setup throughout the community.
"We're going to start July 26th, it will be the campaign kickoff, this will be the third year we've done this. It's co-hosted by Upper Thames Brewery and Todd's Dogs and it's just a good social evening for people and to generate some public awareness about the run, get people excited, and then we lead into other events throughout the year. We do Streetfest, we're there for a couple days. And we have booths setup for the Farmer's Market, that'll be later August and the first week in September. There's a couple other things we're looking at at, we'll probably do a kickback night with Montana's they have looked to do that and there are still one or two other things that are possible, but still haven't been confirmed."
The meeting is free to attend. The event has been put on in the Friendly City for a couple of years and the course has remained the same.
Versaevel says the run will be at College Avenue Secondary School.
"The course for anyone who's run it before, or walked it or biked it, is the same as it's been for the last couple years. It takes us from CASS through Southside Park in and around and back up to CASS. It's a really nice course, actually."
All proceeds will go towards the Terry Fox Foundation.
The meeting goes on June 10th at the South Gate Centre at 7:00 pm.