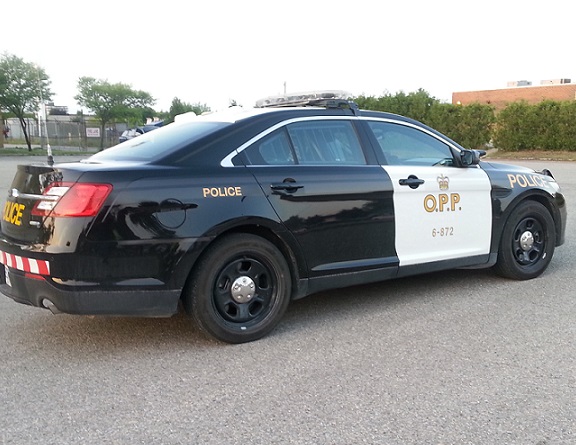 Police say the man stole over $120,000 in vehicles and audio equipment, led police on a chase and cut a man trying to steal his car.
INGERSOLL - A 37 year old man from Waterloo has been arrested after a crazy crime spree in Oxford County.
Police first ran into Michal Mioduszewski on September 23rd when they allegedly found him passed out behind the wheel of a parked Dodge Ram towing a trailer on North Town Line in Ingersoll. He told police he was not feeling well and EMS were called. At that point he managed to evade officers, got back into his truck and a chase ensued.
Eventually officers had to call off the pursuit for safety reasons and officers found the trailer abandoned at the side of the road in Zorra Township. The truck and trailer had been stolen from the Guelph area. Shortly after abandoning the trailer police say Mioduszewski stopped another vehicle on Road 64 in Zorra Township and cut the driver with an edged weapon and tried to steal his car. The victim was able to flee the area in his vehicle and was later treated at the hospital for this injuries.
The next day police were called to a rural property on Road 64 after a vehicle was stolen from the driveway and the stolen Dodge Ram was found abandoned in the area. The stolen truck was brand new and worth roughly $60,000. It also had several pieces of stolen property inside it and the trailer that was left abandoned in the initial police chase.
Property seized includes audio/visual equipment that had been stolen from the Rogers TV in Kitchener worth an estimated $61,000. Police also recovered a John Deere Riding lawn mower.
After a month long investigation police were able to identify the suspect as Michal Mioduszewski who is now facing a laundry list of charges. They include:
- Flight While Being Pursued by Peace officer
- Dangerous Operation of Motor Vehicle
- Possession of Property Obtained by Crime -Under $5,000
- Possession of property Obtained by Crime -Over $5,000 - 3 counts
- Fail to Stop at Scene of Accident
- Robbery with Violence
- Possession of Proceeds of Property Obtained by Crime -Under $5,000
- Fail to Comply with Recognizance
- Break, Enter Dwelling House - Commit Indictable Offence
- Theft Under $5,000 of a Motor Vehicle

He was remanded into custody with a future court date.