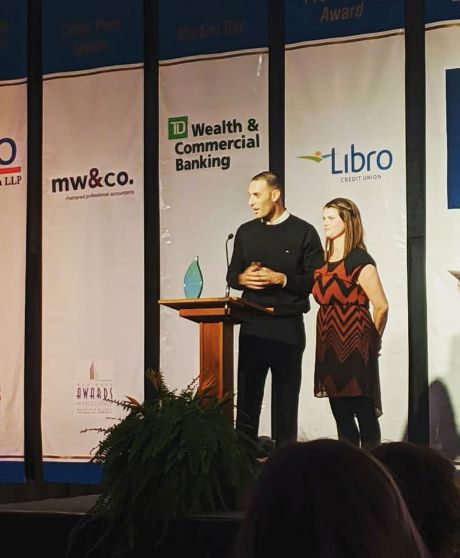 Facebook Photo
Early Bird Coffee, Liz Wismer-Van Meer, the Small Business Centre and TMMC Woodstock were just some of the winners last night at the Woodstock Chamber Awards.
WOODSTOCK - It was a packed house last night for the 2019 Woodstock Chamber Business Awards of Excellence.
Heart FM's Dan Henry was the MC and 9 awards were handed out last night. The awards were selected by the audience, who got to vote in real time after watching a short video about each business.
For Outstanding New Business, Early Bird Coffee was the winner, beating Prime Barbershop and Charger Logistics Inc.
Young Entrepreneur/Professional of the Year went to Jakeman's Maple Products owner Chad Jakeman. He beat out Steve Velthove from Inside U and Brittany Agius from the The Co-Operators.
Community Involvement Award was given to Liz Wismer-Van Meer who was up against Mostly Roses and the Century 21 Heritage House Golden Gala committee.
Professional Services of the Year award went to the Small Business Centre. They were up against Tina J. Smith and Associates and Creative Images Hair Studio.
Outstanding Food Service award was given to Brickhouse Brewpub, who beat out MKL Food Group LTD. (Tim Horton's) and Todd's Dogs.
Outstanding Achievement Manufacturing Award went to Tiltwall Ontario Inc. They were up against Norwich Plastics and Capsule Factory Nutraceuticals.
Outstanding Commercial/Retail Award went to Woof! Pet Wellness Resort. They beat out the Oxford Source for Sports and Scott's No Frills.
The Energy Conservation and Innovation Award was given to Indwell, who beat out Hairpower and SoilOptix Inc.
The final award of the night, the President's award was given to TMMC or Toyota Motor Manufacturing Canada Woodstock.