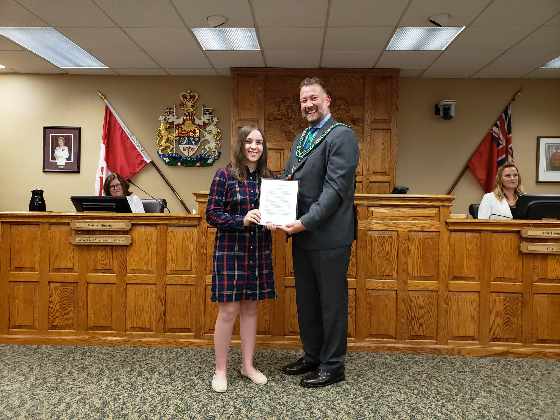 Award Recipient Elyssa Smith and Woodstock Mayor Trevor Birtch (submitted)
Woodstock's Elyssa Smith received the 2019 Student Civic Award of Excellence from Woodstock City council. The Huron Park Secondary Student received the honour for her contributions to the community.
WOODSTOCK - A student from Huron Park Secondary School was the recipient of the Student Civic Award of Excellence.
17 year-old Elyssa Smith was presented with the honour at a recent Woodstock City council meeting.
Smith says it felt amazing to receive this year's award.
"It feels amazing. I really appreciate it knowing that I've been recognized for everything that I've done."
Smith was recognized for helping out in the community. She was the Vice-Chair for the Woodstock Youth Advisory Committee, which is among the many achievements she earned recognition for. Her other contributions include helping the Woodstock Museum and participating in different extra curricular school activities.
Upon her receiving this year's award, Mayor Trevor Birtch says his advice to Smith would be to influence other students to get involved in the community.
"One thing we talk about is the leadership potential that all young people have and when we look at the applicants, all of these applicants have shown such tremendous leaderships within respective areas where they're passionate. And my advice each year and my advice to Elyssa is to talk the other young people coming up in the grades behind her at the school, those that are in grade 10 and grade 11, get them involved. Volunteer at community organizations, continue to study and excel and you know that you're not limited by your dreams."
Smith says she applied for the award at her school, which was then sent off to city council to make a decision. She says she found out about two weeks ago, where she was surrounded by her family.
Her father Ethan says her whole family is happy to see her contributions get recognized by the rest of the community.
"It was absolutely amazing. We were all near the phone when it happened and there was lots jumping up and down and excitedness, it was just a wonderful time because we know how hard Elyssa's worked to get where she is right now. So it was just amazing to see that it wasn't just us seeing our daughter in the light of ' you did a great job, Elyssa!' but to know the community recognized her as well."
The honour will go towards Smith's school resources when she attends the University of Waterloo this fall. Smith will be studying Global Business and Digital Arts in September.