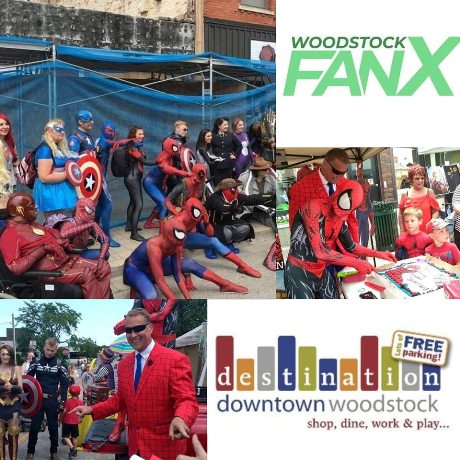 The Woodstock Spiderman Birthday celebrations are happening at Summer Streetfest this year.
WOODSTOCK - Woodstock Spiderman is celebrating his birthday with a huge celebration tomorrow during Streetfest.
Spidey says he will have some his friends with him.
"We will have 5 or 6 different artists that will be there with there art work, paintings and stuff like that, along with a whole slew of super heroes, I'm talking Batman, Wonder Woman, Joker, Captain America, just to name a few, we are going to have whole run of superheroes there."
The superheroes will be taking pictures with the kids and of course, everyone is there to celebrate Woodstock Spiderman's birthday. The party will take place between Light Street and Van Ave from 11 am to 6 pm tomorrow. Spiderman says the birthday party just keeps getting bigger and better.
"It's amazing, we have so many people show up for it every year, last year you could barely move, you could barely walk. I also have cake, we are celebrating my birthday so we have a big cake, enough to feed about 100 little superheroes. The kids love it, they come down, they get the cake, they get some photo's it really is a blast, this is our 4th year doing it and it is so much fun, I love doing it."
Mayor Birtch will be there to cut the cake and donations this year will go towards the construction of a new Santa's House.