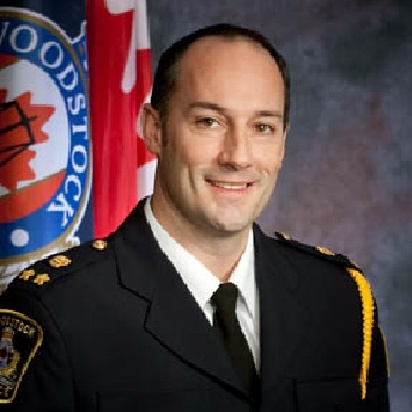 Daryl Longworth (submitted)
Former Deputy Police Chief of the London Police Service, Daryl Longworth is officially Woodstock's new Chief of Police. He was sworn in during a ceremony at Goff Hall yesterday.
WOODSTOCK - Woodstock's Daryl Longworth was officially sworn in the new Chief of Police for Woodstock.
A ceremony was held inside Goff Hall yesterday featuring dignitaries and members of the Woodstock police.
Longworth says he is excited for the opportunity to return to the Friendly City.
"I've had overwhelming support. I'm very impressed with what I've seen with the number of officers here, who are really sincerely dedicated to this community and want to make a difference here. There's been a little bit of a turnover since I came, about 30% of the organization has changed since I left with three retirements and new blood coming in, which is good. So we have a lot of younger people coming in who don't know me, but I have a good, solid base of a foundation of people who do know me, trust me, respect me and who are willing to work with me as we set a new path for this organization."
Among his responsibilities, he says he'll be assessing what this community needs and work with them to ensure they have a police service that meets their needs.
Longworth served in Woodstock as a Deputy Chief for six years. He also served as a Deputy Chief for the London Police Service before coming back to the Friendly City.
He says his experience working in different enforcement units has helped him prepare for this role.
"It's allowed me to see a broad expanse of how organized crime can even affect a small community, how the drug culture can even affect a small community and the dangers and the risks they pose. Even terrorism and cyber crime, guns and gangs and violence associated to that, human trafficking. Things that people would commonly associate with large, urban centers are happening very much in our own backyard."
He adds his experience working in criminal investigations and undercover operations across the province has allowed him to see that the community of Woodstock is not immune to those kind of major crime patterns.
Longworth holds over 26 years in serving in diverse operational units, along with extensive technical supervisory experience in Criminal Investigations, Criminal Intelligence, Drug Enforcement and Tactical Operations.
He is replacing the retiring Bill Renton, who had held this position since 2015.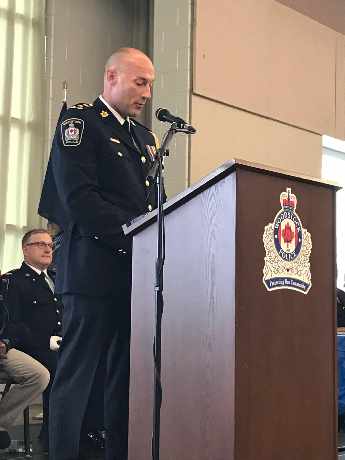 Darryl Longworth addressing the audience at official ceremony - Goff Hall, Woodstock