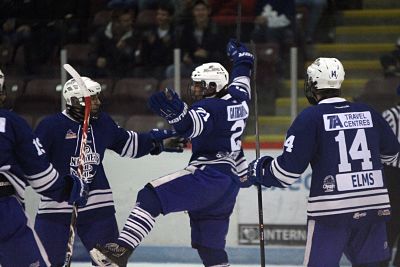 Woodstock Navy Vets make it three wins in a row Tuesday night.
WOODSTOCK -- The Woodstock Navy Vets have pulled within two points of second place in Midwestern Junior C Hockey League.
The 3-2 victory over New Hamburg Tuesday night at Southwood Arena is Woodstock's third win in a row and fifth in their last six games.
Mike Gillespie scored twice during the game including the game winner with just over five minutes left in the third period.
Dylan Wettlaufer netted the other goal for the Vets while Mike Roefs faced 30 shots in net, making several outstanding saves including a couple of breakaways.
New Hamburg pulled their goalie in the last minute of play but could not get the equalizer.
Woodstock now has a 10-8 record and stand only 2 points behind New Hamburg and Burford who are tied for 2nd place behind Ayr.

The Vets travel to Delhi for a game at 7:30 pm on Friday night before returning to Southwood Arena on Sunday night to host Highway 59 rival Tavistock Braves at 7:45 pm.