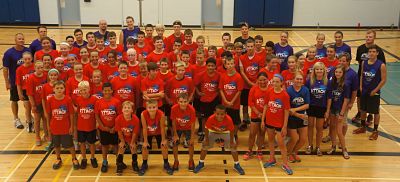 Oxford Attack welcomed 60 participants to their summer basketball camp
WOODSTOCK -- The Oxford Attack Basketball Club recently hosted their second annual week-long summer basketball camp.
The camp attracted 60 participants ranging from Grades 4 through 9.
Camp Coordinator Paul Cowan said the high number and calibre of players attending was encouraging. "The quality of basketball is growing in Woodstock and area with a strong house-league system in W.O.M.B.A. and travel basketball opportunities offered through the Oxford Attack within the O.B.A. Our summer camp allows existing Oxford Attack teams to invite new players interested in trying out for their teams in the fall a sneak peak at what our club offers and also a chance for brand new younger Oxford Attack teams to be formed from interested players and parents from our camp. The participants were taught competitive basketball skills, played games of 3 on 3 and finished the week off with full court games of coached 5 on 5."

Tryouts and team formation for Grades 4-8 boys and girls Oxford Attack teams begin in late September. High school age Oxford Attack teams begin play after their high school basketball seasons are over but the Oxford Attack will have open gym time for interested high school aged players throughout the fall.
Contact Oxford Attack club president Jerry Beckett (jbeckett@odyssey.on.ca) for any details concerning existing or potential brand new Oxford Attack teams for the 2014-15 season.