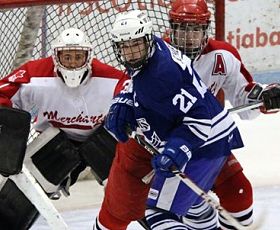 Navy Vets take on Merchants, Tavistock and Thamesford also on the ice
OXFORD COUNTY - The battle of Highway 59 returns tonight as the Norwich Merchants take on the Navy Vets in Woodstock.
The Navy Vets are one and one on the season while the Merchants are looking for their first win of the season.
Puck drops at 7:45pm.
Other local junior teams in action this evening include the Wellesley Applejacks taking on the Tavistock Trojans in Tavistock and Lambeth is heading down to Thamesford to take on the Braves. Both of those games start at 7:30pm.