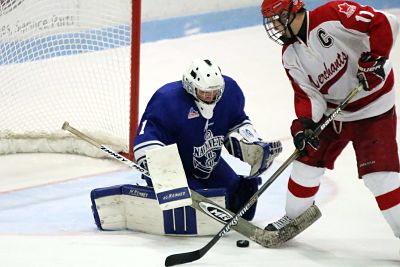 Merchants edge the Navy Vets in Norwich Sunday afternoon.
NORWICH - The Navy Vets lost a tight one 1-0 in Norwich on Sunday afternoon.
The Merchants were on the board just five minutes into the 1st period and were able to hold that lead through the remainder of the game, despite Woodstock's efforts of adding the extra attacker to get the equalizer after pulling their goalie with 34 seconds left in the game.
Michael Roefs faced 19 shots on net for the Navy Vets. The loss drops Woodstock's record to 18-16 and moves Norwich to within one point of the 4th place Navy Vets but with a game in hand.
Woodstock will host Wellesley Friday at Southwood Arena, puck drups at 7:45 pm.
Six Vets players also participated in the MHL Prospects Game in Ayr on Saturday afternoon.
Jackson Swindells played half the game in the Team Blue net not allowing a goal on 17 shots and also recorded an assist, Jeremy Racicot had two assists as a late replacement for Cam Leslie, Justin Elms had one assist and Vets head coach Adam Wallace & GM Trevor Rose were the winning coaches as Team Blue beat Team Gray 4-2. Also playing in the game were Austin Richardson, Dylan Wettlaufer and Max Coyle.
Four Navy Vets players participated in the MHL All-Star Game also in Ayr on Saturday afternoon.
Michael Roefs played half the game in the Team Red net allowing three goals and making 18 saves. Nathan Innes had one assist, Jake Schneider had two goals & two assists while Mike Gillespie had one goal.
Team Red beat Team White 12-11 in a shootout.
Veteran Navy Vets forward Mackenzie Langford was also selected to play in the game but did not play as he got married on Saturday afternoon. Congratulations to Mackenzie and his new wife Rachel.
Article submitted by: Jim Taylor