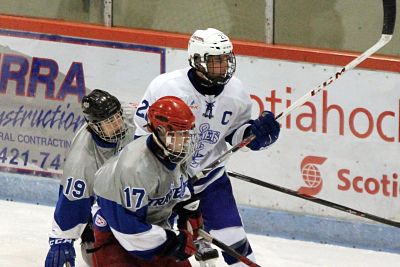 Woodstock sit third in the standings, one point up on Norwich - the Vets have two games remaining while Merchants have three games in hand.
DELHI - With two games left in the regular season, the Woodstock Navy Vets are on a winning streak.
Rookie goalie Jackson Swindells made 27 saves and recorded his second shutout of the season in a 7-0 Navy Vets win in Delhi Sunday night.
The Vets scored three times in the 1st and 2nd periods to cruise to the victory.
Chris Nauts had a big night in only his second game back from an injury that kept him out of fourteen games, with a goal and three assists to lead the attack.
Dylan Wettlaufer continued his hot scoring pace with two goals; he had the big overtime winner on Friday night against Burford at Southwood Arena.
Austin Richardson, Ricky Johnston, Michael Nutt, and Braden Hutchison scored the other Vets goals.
The Vets win was their 21st win of the season equalling their total back in 2007 when current Vets head coach Adam Wallace was a young tough defenceman with the team.
It was another tough loss for the young Travellers team as Delhi remains winless this season with a record of 0-36.
Woodstock's record is now 21-17 and they sit temporarily in 3rd place just one point up on Norwich who have three games in hand.
The win also set up a big game on Friday night at Southwood Arena against Paris Mounties for "Fan Appreciation Night."
The Vets are four points ahead of Paris and the game could decide who ultimately gets 4th place and home-ice advantage in the first round of the playoffs which start the first week of February.