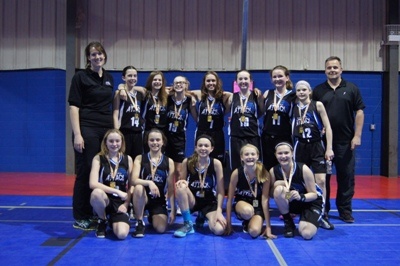 Attack U13 Girls win 4th Consecutive Gold
BRANTFORD: The Oxford Attack Under 13 Bantam Girls swept 5 games en route to a spectacular gold medal finish at the Blessed Sacrament tournament held in Brantford over the weekend. This was their 4th consecutive gold medal tournament win. The Attack girls played in Division 3 in the tournament and faced AA+ caliber teams ranked in the top 25 in the entire province.
The Attack girls have won 25 straight games sporting a stellar 27-3 season record heading into their provincial championships to be held in Windsor in mid April. The girls' full court pressure defense and 3-2 zone continues to stymie all teams they have faced.
The Attack girls opened the tournament against the 20th ranked Niagara Falls Red Raiders and held the Raiders to only 4 points at halftime with suffocating defense which led to a comfortable 35-25 victory.
The girls next played the heavily favoured 22nd ranked Brantford CYO #1 squad in their home city and once again held a strong team to only 6 points at half with their 'arrow style' press and half court zone and finished with a surprising 28-20 win.
The Attack girls completed pool play with their third game of the day against the East York Eagles. Both teams were tired and sluggish with the Attack once again holding a solid 16-9 halftime lead relying on their defense. The Attack offense dried up in the second half but they still managed to hold onto a 22-20 win to finish first in pool play.
The Attack faced the Flamborough Fire in the semi-finals as they looked to avenge an earlier season loss to the Fire. The girl's defense once again held their opponent to less than 10 points at half resulting in a solid 28-16 victory to advance to the gold medal game.
In the exciting gold medal finale, the U13 Attack girls played a motivated Brantford CYO team looking for revenge from the earlier pool play loss to the Attack. The Attack girls trailed by a few points in each quarter setting up an epic 4th quarter battle. Both teams relentlessly full court pressed each other in the final frame with the Attack forcing a few timely turnovers with their press and converted crucial free throws to complete a remarkable 45-41 victory against a tough AA+ caliber team.
The Oxford Attack U13 girls now prepare for their provincial championships as a top 25 ranked team in only their second year of playing rep basketball.
Article submitted by: Chris Dempster