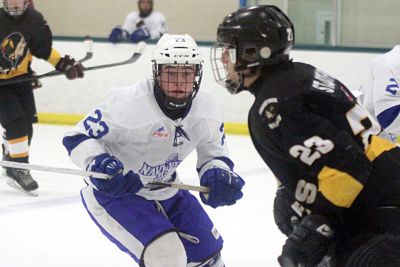 The Woodstock Navy Vets have tied the team's longest winning streak in over eight years.
WOODSTOCK -- The Navy Vets exploded for five goals in the 3rd period to come from behind and defeat Tavistock 6-2 at Southwood Arena on Sunday night.
Woodstock's fifth consecutive win ties the team's longest winning streak in over eight years.
Tavistock scored twice in the 1st period to take an early lead but Mackenzie Langford got his first of two goals midway through the 2nd period to set up the dramatic final period.
Dylan Wettlaufer scored just eleven seconds into the 3rd period to tie the game and Mike Gillespie scored his first of two goals just three minutes later for what proved to be the winning goal.
Langford and Gillespie then each scored their second goals of the game and Chris Nauts rounded out the Vets scoring.

Gillespie added an assist to help vault him into third overall in league scoring with twenty-four points including a league-leading fifteen goals.
Captain Jake Schneider had 2 assists to extend his scoring streak to 7 games, the longest streak by a Navy Vet in over 5 years …
Wettlaufer also added two assists while Ryan MacDonald also picked up an assist for his first point as a Navy Vet.
Mike Roefs faced twenty-six shots in the Vets net allowing only the two goals to move him into second place in league goalies with a 2.25 Goals Against Average.
The Vets are tied with Burford for third place with a 12-8 record although Burford has a game in hand on the Vets.
Woodstock has a busy weekend coming up as they travel to Ayr Thursday to face the league-leading Centennials before hosting Paris at Southwood Arena on Friday night at 7:45 pm. Saturday night is a return match in Paris on Saturday night.