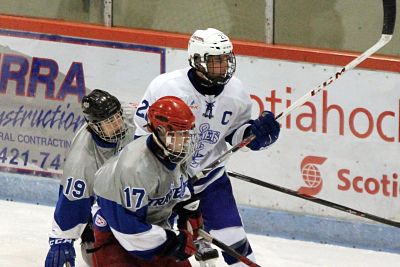 Woodstock, Tavistock, Norwich and Paris hold four-way tie with 10 points in tight league standings
DELHI -- The Travellers are still waiting for their first win of the season.
The Woodstock Navy Vets travelled to Delhi for a Sunday matinee, looking to rebound from a loss to the Merchants Friday.
After a scoreless first period, the Travellers got on the scoreboard first with a goal midway through the second period. But the Vets equalized before the end of the period and dominated through the third with another four goals, skating away with the 5-1 victory.
Chris Nauts led the attack with 2 goals for Woodstock, Mike Gillespie added a goal and 2 assists while Braden Hutchison and Austin Richardson added the other goals.
Jackson Swindells stopped 22 of the 23 shots he faced.
The Navy Vets currently sit tied for fourth with Paris, Norwich and Tavistock in the tight league standings with 10 points on a 5-6 record.
The Braves were 6-1 winners over Wellesley on Sunday.
The first place Ayr Centennials will be in Woodstock Friday night. Game time at Southwood Arena is 7:45 pm.
In other action, the Thamesford Trojans lost a close on to the Lancers, 5-4 in Lambeth.