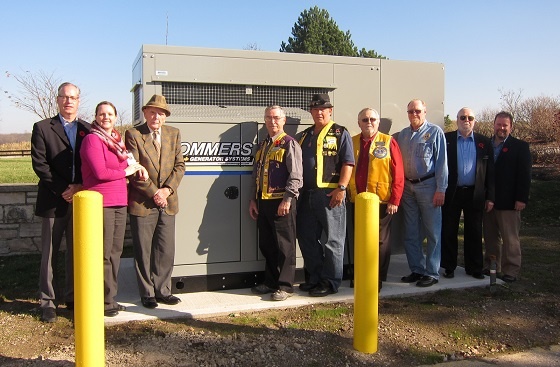 The lights will always stay on at the Sakura House residential Hospice in Woodstock with the donation of a backup power generator.
WOODSTOCK - The power is always going to stay on a the Sakura House residential hospice thanks to some generous donations from our local Lions Clubs in Oxford County.
10 clubs from the region pooled their money together to donate over $99,000 to the hospice for a backup power generator. Fund Development Coordinator for VON Oxford Kyra McNamara tells Heart FM why it is important for the hospice to have a generator.
"So in the past we have had protocols and emergencies planned in the event of brief power outages and extended power outages and what this generator allows us to do is to ensure that there is absolutely no disruption to the way we deliver care at the hospice. It's definitely a comfort issue, there are a lot of elements in the house that if the power is interrupted, it just changes what we are doing in that point in the day and when you look at the individuals who use hospice care, sometimes one hour in the day is really important so we don't want their experience to be interrupted in any way."
Jack Broadfoot of the Thamesford Lions spearheaded the project and his club raised the most money with over $15,000.
Donors:
Lions Clubs
o THAMESFORD ($15,000)
o Staffordville
o New Hamburg
o Hickson & District
o Sweaburg & District
o Tillsonburg
o Oxford
o Woodstock
o Innerkip & District
o Drumbo
Jack Whitmore, David and Barbara Beatty, Tenaquip Ltd, Westministral Players, Maglin Site Furniture and other private donors.