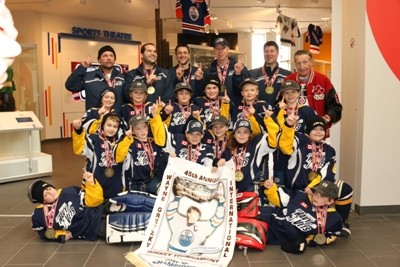 Woodstock's Jr Navy Vets Novice MD team took first place at the annual tournament last month.
BRANTFORD - The Woodstock Jr. Navy Vets Novice MD team captured the Novice MD division of the 45th annual Wayne Gretzky International Tournament in Brantford during the Christmas break.
The boys worked hard to go undefeated going 7-0 over a four day period. The team won their round robin games against Kitchener Jr. Rangers (2-1), Burlington Bulldogs (6-2), Milton Winterhawks (4-0) and Sarnia Jr. Sting (4-0). The team was victorious in their quarter final game against the Stoney Creek Jr. Warriors (11-0) and their semi-final game agains the Kitchener Jr. Rangers (4-0).
The Championship game was against the Sarnia Jr. Sting where the boys defeated them 3-1 to capture the title.
This is the second tournament title for the team this year after capturing the John MacDonald Memorial MD tournament in St. Catharines earlier this year.
Article submitted by Chris Martin