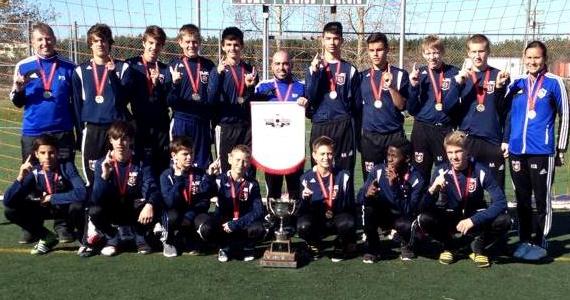 The North London Elite 2000 boys soccer team are national champs, including two local athletes.
Two Woodstock teens are showing off their Canadian championship hardware.
Keaghan Brett, team captain and Alexandro Berardi play for the North London Elite 2000 boys soccer team and along with their team travelled to Prince Edward Island to participate in the Canadian Nationals.
The team won the Ontario Cup back in August giving them the ticket for the National Championships.
The team played their first game Wednesday, defeating Nova Scotia 2-1. Game two Friday had them up against Saskatchewan where the boys dominated with a 4-nil final.
For the semi-finals Saturday, the North London Elite squad downed Alberta 4-1 to advance to the finals on Monday, where they captured the Canadian Championship with a 2-1 victory over British Columbia.