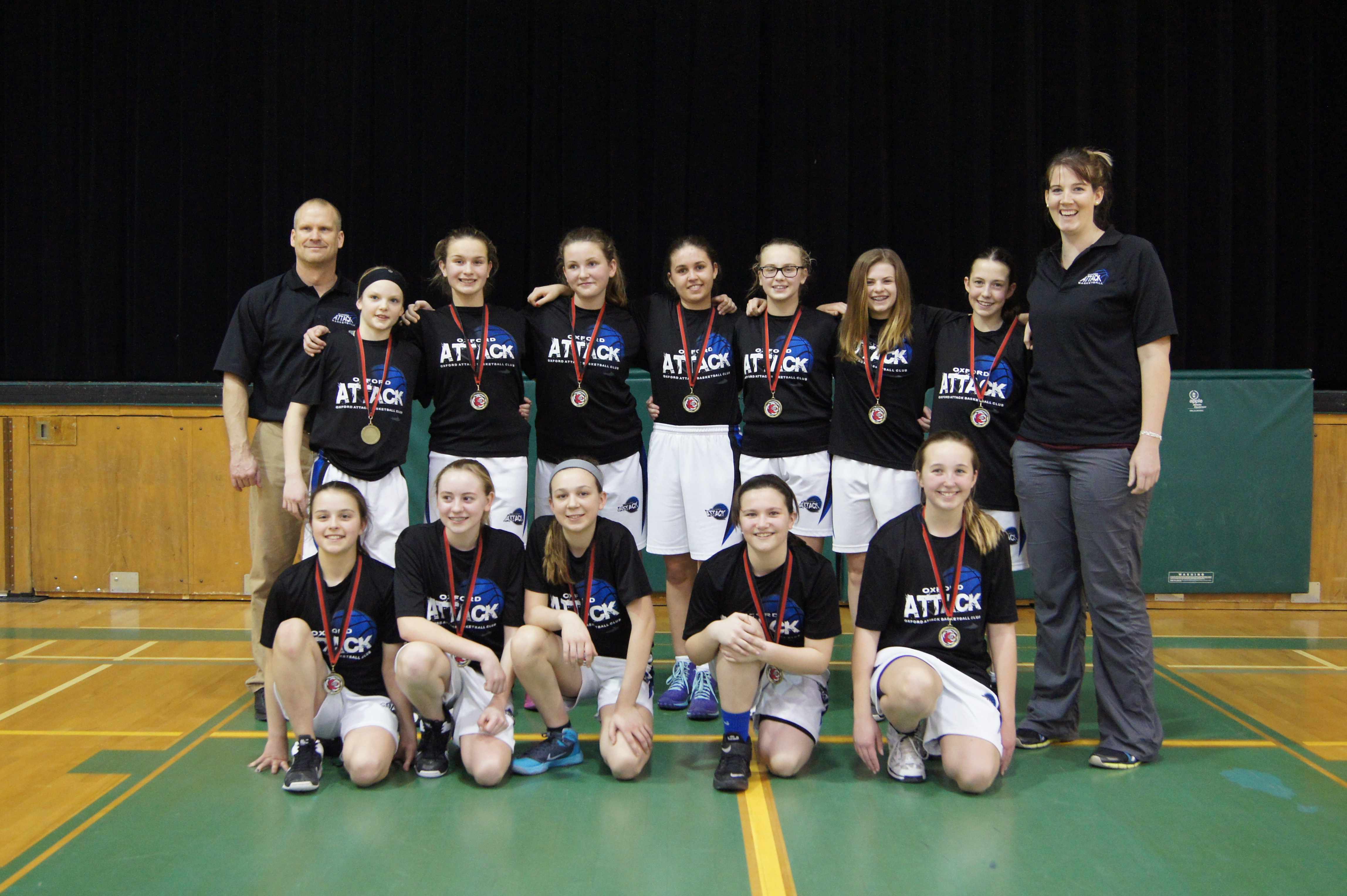 Back Row (L to R): Coach Paul Cowan, Jaime Magoffin, Emma Hagen-Johnson, Hannah Cowan, Emma Chevers, Brianne Kunderman, Olivia Kirkwood, Alexis Birch, Coach Deanna Kirwin Front Row (L to R): Jaycee Gilbert, Leia Carrol
Oxford Attack under 13 Bantam Girls take gold at OBA tournament in Grimsby.
GRIMSBY: The Oxford Attack Under 13 Bantam Girls swept 5 games en route to a gold medal finish at an OBA sanctioned tournament in Grimsby over the weekend. This was their 3rd consecutive gold medal tournament win. The Attack girls continue to play spectacular defense employing multiples types of full and half court pressure defenses. They have also improved their zone offense and foul shooting in recent weeks.
The Attack girls opened against the inexperienced York North Avengers came out on top of a 37-5 score. Alexis Birch had 6 points while Leia Carroll and Jaycee Gilbert netted 5 and 4 points, respectively.
The Attack next faced the host Grimsby Grizzlies and raced out to large lead eventually winning 39-11. Emma Hagen-Johnson had 10 points while Jaime Oliver scored 6 points.
The Attack completed pool play against the Dundas Dynamo and used their full court press to force the Dynamo into multiple turnovers generating easy layups for the Attack resulting in a 47-23 score. Brianne Kunderman led the Attack with 12 points while Jaime Magoffin had 11 and Emma Chevers chipped in 2 points and great defense.
In an early morning semi-final game, the Attack faced a stubborn Port Colbourne Hornets squad who also full court pressed and played a tough 2-3 zone. The Attack girls battled to a hard fought 33-28 victory. Kunderman netted 10 points with Amanda Witmer contributing 6 points.
In the final game against London CYO, the Attack girl's full court pressure defense overwhelmed CYO resulting in a 43-30 gold medal victory. Olivia Kirkwood had 8 points while Larissa Bayliss and Hannah Cowan netted 6 and 4 points, respectively.
Article submitted by Chris Dempster